Home
 

The only news magazine for Indian and Indian-American community in Pittsburgh in Pittsburgh
For your free hard copy of the magazine in the mail, send your mailing address to ThePatrika@aol.com
January 2017 Issue 

 
The picture below is the cover page for the January 2017 issue of The Pittsburgh Patrika.  This NOT a PhotoShop job of superimposing pictures of Indian models in saris on an American backdrop.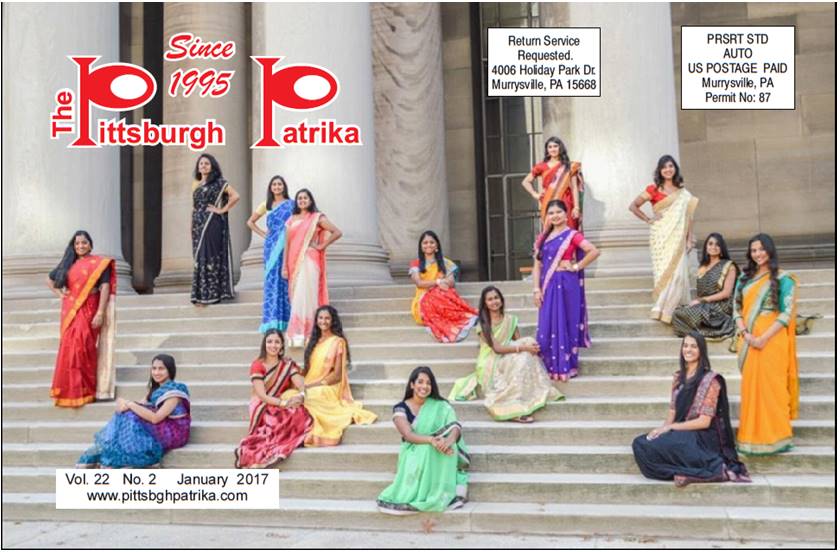 These young women are University of Pittsburgh's US-born undergrad students of Indian origin belonging to Nrthyamala, an organization dedicated to Indian classical dance.  Sareena Fayaz, an undergrad student at the university, took this picture in front of Mellon Institute in Oakland.
One wonders if a bunch of today's every-day Indian college students in New Delhi, Mumbai, or Bangalore would feel comfortable posing for this kind of pictures wearing saris.
By Kollengode S Venkataraman
On Donald Trump's election victory and what lies ahead in style and substance for us in the Trump administration.
*  During the October Diwali celebrations among Indians in New York, Trump boasted this Hindi expression borrowing from Modi's Ab ki bar Modi Sarkar.
By M. Meenakshisundaram (aka M. Bhaskar), Tiruchi, India
Meenakshisundaram, a long-time resident of Tiruchirapalli in Tamil Nadu shares with readers his shock and astounding surprise on the totally peaceful protest against the ban on Jallikattu, an old agrarian game in which youngsters try to tame a well-groomed and well-fed bull.  (Full disclosure: The author is also a dear friend of mine for over 40 years.) Here is video clip of the actual Jallikattu event.  Obviously, this high-adrenaline game is not for the faint-hearted.
 Hundreds of thousands of people gathered in many places — not only young men, but also middle aged men, retirees, young women, young mothers, even pregnant women participated with no violence whatsoever for nearly six days.  The origin of this game goes back to the Sangam time since we find references to this game in the literary works that are 2000-years old.  The protesters got what they wanted — the Jallikattu game was restored without any violence reported anywhere.
As it happens in India, though, on the seventh day, after most of the protesters had gone back, several unruly elements joined the crowd and in the tussle between the police and the leftover crowd, a police station was set on fire, several buses and vehicles were torched, and several people were injured.
By Kollengode S Venkataraman
On the ethnicity-based hate crime on Ankur Mehta in Bethel Park, a bedroom community of Pittsburgh with above average family income and education level.
Many Indian-Americans are unfamiliar with the history of immigration in the US.  They may instinctively retract into their shells out of fear or apathy as a defensive, convenient response.  But this is exactly the wrong thing to do.
We need to set our view on a longer, wider horizon. Wherever we live, we need to frequently interact with people around us in our individual capacities. This takes time and effort. But this is our best bet to integrate ourselves into the American mainstream.
Given our fragmented social groupings here, it is unrealistic to expect our temples or other social groups to take a stand on, or even comment on, hate crimes against individual Indian-Americans like Ankur Mehta.  These organizations are traversing in their own orbits far removed from the ground realities.
By K S Venkataraman
When we drill down the 2016 election results into Red and Blue counties, it gives a stark picture on the wide divide among rural and urban population.  The country is divided sharply between urban and rural Americans on every measure — age, race, education, income, social values, beliefs…  So, governing becomes difficult since the rancor never subsides after the elections. We could as well be living in two different countries. 
Clinton lost in the Electoral College even after getting 2.5 million more popular votes than Trump. If she had reduced the margin of loss in rural counties by reaching out to the rural, less educated, and mostly white voters, she would have won the election.
We can only say this to both political parties on the way they strategize their calculus in national elections:  This is no way to run your railroad.  To the Democrats, you can even add this rhetorical flourish:  This is one hell of a way to run your railroad!  
By Kollengode S Venkataraman 
Dr, Madhu Aggarwal was inducted into the Weirton's hall of Fame for her philanthropic work for the uninsured and needy population's  OB/GYN needs.
By Bhanu Pandalai and Premlata Venkataraman
Dr. Parandham Koduri, a longtime resident of the area and an affable and well-liked emergency room physician passed away on October 11. He was actively involved as a volunteer at the S. V. Temple, serving in many official capacities. At the Temple he was the President of the Executive Committee and later the Secretary of the Board. Most importantly, he was known as a peacemaker among contentious key members of the temple who did not see eye-to-eye on the temple's temporal matters. He was also active in the Rotary Club in Monroeville.
By K S Venkataraman
On the British prime minister Theresa May's visit to India in Fall in the context of the British Colonial Occupation of India.
By Shriram Murthy 
Somya Srinivasan, a student of Latha Sekaran,  gave a delectable veena arangetram recital in early summer.  It is rare among youngsters growing up in America or even in India to learn to play on the veena and reach a level of giving solo recital. So, Sowmya's dedication towards this pursuit is noteworthy.  Sowmya, her guru Latha Sekaran and Sowmya's parents would be pleased that all their collective efforts paid off well.  We wish Sowmya well to reach greater heights in her musical journey in the years to come.
By Premlata Venkataraman
On the University of Pittsburgh's Center of International Studies hosted a reception for Riva Ganguly Das, India's Consul General at New York on Thursday, November 10 at the Barco Law Building.
By Balwant Dixit and P. Sundararaman
Balamuralikrishna, a genius in Indian classical music passed away in November in Chennai. Balwant Dixit and P Sundararaman reminisce their interactions with this talented and versatile musicians.
By Kollengode S Venkataraman
From this poem in Kalittogai, a 2000-year old anthology of Tamil literature, we learn that people leaving their native habitat searching for fortune is a very, very old Indian phenomenon.
By Jayashree Phanse
Jayashree Phanse reviews Babeena Sharma's enjoyable vocal recital at the S V Temple in Fall.
By Samar Sinharoy
The author in his retirement living alone in our area after the death of his wife reminisces the blue sweater he still cherished that his mother knitted for him over fifty years ago.  He wonders if our children would reminisce likewise the knick knacks we would leave for them.
By Premlata Venkataraman
Premlata reviews the 15-min short film in which the main character is played by our own Juginder Luthra on how the aged people living alone handle the haunting memories with dramatic effects.  This is in a way, a "silent" film with not a word of dialogue except for background music to convey the poignancy of the scenes.
By K S Venkataraman
Harish Saluja sent to the editor one of Akbar Allahabadi's two-line dohas — somewhat cynical, somewhat philosophical, somewhat humorous, using boat and ocean as imageries.  The author puts this doha in the context of Indians' fascination with boat and waterways as metaphors for life's complex journey for each individual.
By K S Venkataraman
Lately, the Hindu Temples in the US are slowly — very slowly, one should say — opening their doors as polling stations during general elections, as many churches have been doing for a very long time.
By K S Venkataraman
After struggling to make the authentic Indian yoghurt called Dahi (in Hindi, Marathi, Gujarati, Bengali, Oriya), Tayir (in Malayalam and Tamil), Mosaru in Kannada, and Perugu in Telugu, the author describes his simple pleasures of how he finally succeeded in making the authentic Tayir here in the US.
Muhammad Ali in His Own Words
The greatest boxer ever lived, Muhammad Ali, passed away after suffering from Parkinson's disease he acquired taking repeated hits to his skull in his career.  Here he describes his opposition to the draft for fighting in the Vietnam War at the peak of his career. He suffered huge financial losses for his decision borne out of his moral convictions.  No other athlete anywhere in the world since Muhammad Ali has taken such a morally convincing protest stand for his political beliefs.
'