By K S Venkataraman                  e-mail:  thepatrika@aol.com
Volunteers from the Wold Hindu Council took the initiative for a noble cause. They pooled volunteers to organize filling school bags with supplies for students going to school in the Fall. These bags go to homeless school children in our area—by far the most needy and deserving students among us for this kind of assistance.
The Monroeville India Garden Restau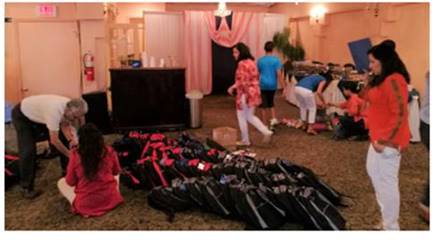 rant's Shinghara Singh and his wife Davinder Singh offered their banquet hall for free to the volunteers for this group effort, and also fed the volunteers for free!
Over 125 backpacks were filled and handed over to the local chapter of the Homeless Children's Education School Supplies Drive. Volunteers from the Maharashtra Mandal, H-J Temple's Vidya Mandir and many individuals gave their time in this noble cause. The SV Temple donated $500. The picture above shows the bags being filled, and the one below are the volunteers who made this possible.   ♣