By Kollengode S Venkataraman
Last December [2017], I was in Coimbatore, in Tamil Nadu, a self-made city built by the enterprising instincts of Kongu Vellalars (Gounders) and Naidus, the two major communities that pretty much built the city and the region surrounding the city from scratch, with practically no support from federal or state governments or investments in public sector companies.  The medical care facilities in primary, secondary and tertiary healthcare in Coimbatore is as good as it is in Chennai, only less expensive.
[One important observation in diversion:  Private sector doctors do not care  –  and perhaps do not even want primary and preventive health care.  After all, with poor emphasis and priority on primary care with its emphasis on preventive medicine, in due course of time, everybody ends up in secondary and tertiary health care facilities, costing several multiple times compared to what preventive care costs.  By far one of the most predatory health care systems in the world is in India.)  That is where all the money is to be made for the healthcare industry in India  — doctors, testing labs, pharma companies, and a horde of healthcare support services.  The tertiary healthcare facility is the ultimate akshaya patram for the doctors and hospitals.  Many working class families without access to hard currency from their sons and daughters in the Persian Gulf, Malaysia, Singapore, and the Gora lands, are on the brink of financial ruins.  This is another topic for another day.]
Kongu Vellalar's (Gounders') and Naidus' footprints are everywhere in Coimbatore and its surrounding area  –  in elementary, primary, secondary education in schools they have build in the names of their parents; 4-year colleges in arts and science; medical and engineering colleges; hospitals, primary care centers and charities in their parents' names; small and medium businesses and industries; and in supporting temples and patronizing performing arts.  In the arid Kongu region where one needs to go 300 to 400 feet deep to get water, these people of the region also engage in farming and agriculture.  That is how hardworking and enterprising the people in the region are.
We were in the shopping area along Hundred-Feet Road in Coimbatore looking for a Pattu Paavaadai (reshmi lehnga) for my 3-yar old grand daughter. Hundred-Feet Road had several showrooms for silk saris and gold/diamond jewelry. These shops specializing in silks only sell the fabric in pure Kanchi and other specialty silks for Paavaadais for 2 to 12-year old girls. The Paavaadai fabric, like expensive saris, comes with matching material for the blouse integrally woven at one end of the fabric.
My wife and I were debating how the green pavadai would go with the pink/red blouse material for our 3-year old brown grand daughter. The salesman heard our discussion: "Ayya, oru nimisham," or "Sir, wait an minute." He continued in Tamil: "I will show you how it would look as a paavaadai-jaaket pair."
I don't know what he did, or how he did it. Within 30 seconds, he folded the single piece of silk fabric in a few complicated steps. Bingo! Magically, he made the same piece of fabric look like a paavaadai-blouse pair.
"Ayya, ippa parunga." Or, "Sir, now you see." With a smile on his face, he continued in Tamil, "This is how it would look on your grand daughter."
I asked him to pose for a picture. And here it is.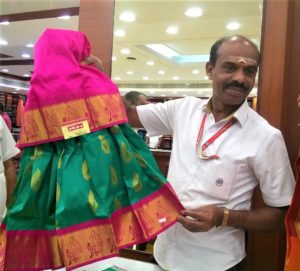 Needless to say, he was so good, I also ended up buying more material than what I had in mind when I entered the shop. ♣