By Kollengode S Venkataraman, Monroeville, PA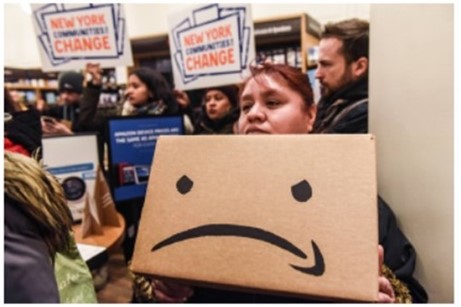 After a one-year long search, Amazon announced that its HQ2 project in Novrmber 2018, with the potential to employ 50,000 employees, would be split ,between two large metropolitan areas, namely, New York City (population 8 million) and the Washington DC area (over 6 million), both on the eastern seaboard, hardly 250 miles from each other. The project, with an outlay of $5.0 billion, is expected to provide employment for 25,000 people in each location. The two locations are the 1st and the 7th largest metropolitan areas in the nation. New York City is already the capital of TV news media houses, financial markets, ad agencies, and with all other cultural accoutrements such as museums, sports, theater, music and dance… The DC area is the political epicenter of the nation with top-flight universities, several thousand lobbying houses for every conceivable special interest group, and all the trappings for the "good life," with all kinds of tax-payer subsidized attractions like parks, museums and monuments. And the DC area, for a variety of reasons, is the most recession-proof regions in the nation. The pictures in this story show the public anger against Amazon's arrogance.
No matter where Amazon moves its HQ2 and HQ3, tax payers will be coughing up over $2 billion in tax subsidies and abatements for several years. This is nothing new. In the US, cities vie with each other to attract new glamorous businesses with the potential to offer thousands of jobs or give national visibility. Sports teams, healthcare facilities, or airlines looking for opening a new hub talk to second- and third-tier cities seeking all kinds of financial subsidies for them to come. Cities such as Pittsburgh, Cleveland, Cincinnati, Denver and others desperately looking for new businesses to grow, are willing to give all kinds of concessions and tax breaks. So, getting tax-payer funded financial subsidies even for mega companies such as Amazon, is par for the course in the American business environment.
But what was diabolical with Amazon was the way it went about teasing all the metro areas to make their offers while meeting certain minimum criteria before sending their proposals. Among the criteria it listed when it released the RFP (Request for Proposal) from cities were:
1. Metro area with at least 1 million in population; space of 8 million square feet for its buildings a) within 30 miles of the
population center and b) under 45 minutes from an international airport with nonstop flights to Seattle, San Francisco/Bay Area, New York, and Washington DC. Its Seattle HQ sits on an 8 million sq.ft site with 33 buildings.
2. Stable and business-friendly regulations and financial incentives and subsidies from state and local governments (essentially tax-payer money). The company also asked the applicants — mind you, the applicants are cities and large metro areas with elected governments — to outline the specific types of incentives they offer, such as tax credits and relocation grants, and calculations on the amount of total incentives they provide.
3. Since Amazon wanted to hire 50,000 employees, the applicant cities were also asked to submit the names of the universities, community colleges, vocational schools with the details of the student enrollment statistics and the majors they offer.
4. Amazon was also asking for what it called "cultural fit" in these terms: it defined cultural fit to include a diverse population, strong higher-education system, and local government "eager and willing to work with the company," among other features. So, Amazon was in the driver's seat, not the elected state and local governments responding to its needs. Amazon also asked the cities to "demonstrate characteristics of this [cultural fit] through testimonials from other large companies."
5. Amazon wanted the site with mass transit — train, subway, or bus — no more than one or two miles from highways and connecting roads.
6. The company asked the applicant cities to identify "all transit options, including bike lanes and pedestrian access" for the proposed site and to rank traffic congestion during peak commuting hours.
7. Amazon also asked for information about housing prices and availability, the general cost of living, and crime statistics from each of the metropolitan areas.
Nearly 240 cities and metropolitan areas responded to Amazon's call. Since many cities or counties all by themselves rarely meet all these criteria, elected officials in many areas got together with adjoining cities and counties, spent hundreds of hours and thousands of dollars to make their proposals in glossy and eye-catching video presentations.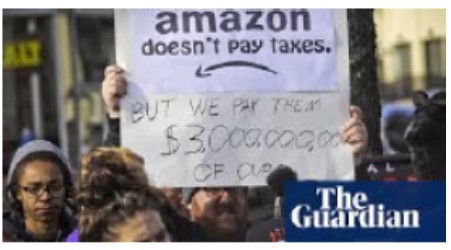 Amazon whittled down the proposals from 238 communities to 20 Metro areas as "finalists," much like bikini-clad beauty contestants are chosen; or worse still, like some modern day dating show. Amazon humiliated the 20 finalist metro areas by publicly teasing them by, all the while drumming up publicity for itself among different sections of society. The finalist cities were desperate to be picked up by the Prince on the White Horse.
Among the twenty "finalist" metro areas that Amazon whittled down were: Indianapolis, Chicago, Denver, Nashville, Los Angeles, Dallas, Austin, Boston, New York City, Pittsburgh, Philadelphia, Columbus, Ohio; Washington, DC Metro area, Raleigh, NC; and Atlanta.
After getting all kinds of information from 238 metro areas, and whittling them down to 20 smaller metros, when Amazon decided to split its decision between New York City and the Washington DC area, the two largest metro areas barely 250 miles apart, people and elected officials all over were irate. Many social commentators berated Amazon, stating that Amazon's objective in this exercise was not on the second HQ, but to gather at no cost to itself all kinds of information and then use it for its other business purposes down the pike. Cowing down to pressure, New York said NO, and soon Amazon withdrew from New York City.
This is the finest example of what happens when we let Corporate America's big wigs such as Amazon run amuck and roughshod over elected state and local governments all across the nation. And how public outcry can outsmart corporate high-handedness. ♠