By Srujana Kunjula, Wexford, PA
Editor's note: Dr Srujana Kunjula, who holds a PhD from the Jawaharlal Nehru University in India, teaches sociology and political science at CCAC.
Many high school graduates are not able to go to 4-year degree colleges for a variety of reasons. Among them are the high cost of 4-year degrees in universities, and "missing the bus" during their high school years due to family situations, not getting proper directions and guidance during critical transition years as young adults. Whatever the reason, as a society, we need to recognize that we help ourselves by helping all our youngsters to become productive, skilled employees and tax-paying citizens. Otherwise they end up as a burden to society.
Besides, with the rapid development in technology in all facets of our life, it is imperative that we train and re-train all our workforce to make these transitions smooth for the employees, and more importantly, the the employers as well. The community college system all over the country provides a vital service in delivering an educated and trained work force for many jobs for a whole range of manufacturing and service-sector industries. It is laudable that the community college system does this at an affordable cost by giving a second chance to students, many of them in their thirties and forties. — Editor
———-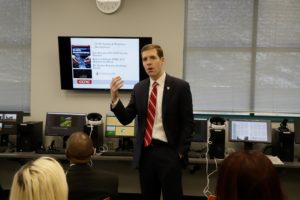 Mr. Conor James Lamb, the U.S. Representative for Pennsylvania's 17th congressional district, visited the Community College of Allegheny County (CCAC)'s North Campus on February 19, 2019. The Campus president, Gretchen Mullin-Sawicki, put the visit in context: "We welcomed Congressman Lamb with administrators, faculty, industry, and student presentations to provide a comprehensive vision of CCAC's commitment to workforce development and student career readiness. We were delighted to showcase our talented CCAC community to the Congressman and his staff."
After the welcome remarks by CCAC president Quintin Bullock, CCAC's North Campus president Gretchen Mullin-Sawicki provided a nice overview of CCAC's workforce development programs in Health Care, Information Technology, Engineering, Science & Production, Business & Financial Technology, Construction, and Retail & Hospitality, and its emphasis in developing technical and soft skills in students. Academic Dean, Dr. Jeffrey Thomas, introduced industry partners from WesBanco, IT Strategy & Innovations and Management Science Associates who thanked CCAC for sending trained students to their companies. Students from West Allegheny High School explained how they are benefitting from early college programs provided by CCAC.
Dr. Mary Lou Kennedy, Dean of Students, introduced faculty and students to Mr. Lamb. Professors Eric Darsow and Rebecca Elinich highlighted Cyber Security, Data Analytics, Simulation and Gaming programs and projects. The Student Government Association president, Kaylor Dobbs, described how he worked with the administration representing student interests.
Zain Aaban, Honors leadership scholar elaborated on how the honors program enriches students through honors courses, research projects, field trips, guest lectures, operas, musicals, rock climbing and community service initiatives. Fernando Tapia Tinoco from Ecuador expressed gratitude to CCAC for giving him the possibility of treating his son's heart disease. Dr. Kennedy said, "We had the opportunity to showcase the talent of our students both in and out of the classroom as well as highlight the skills our students are learning through their active involvement on campus."
Conor Lamb listened to all the presentations with interest asking questions. In his remarks at the end, he reiterated the valuable role CCAC plays in this region, promising he will be its strong advocate. He spent time interacting with faculty and students after the program. My student Jaron Snavely remarked, "I am thankful to meet Conor Lamb and ask his views on the state of the Democratic Party, 'Green New Deal', and its impact on Western PA constituents. He gave thoughtful answers and seemed to care about my opinions and concerns."
I had the opportunity to share my academic experiences with Representative Lamb. He is personable, enthusiastic, supportive, and down-to-earth. The fact that he took time out of his busy schedule to learn about our college exemplifies his curiosity and commitment to people-centered politics. ♠