By G. Paul Manoharan, Upper St. Clair, PA gopalsamy.manoharan@stifel.com
Dr. Nagabhushanam G. Nunna, known simply as Bhushan to his contemporaries, and as Nunna-Garu for people from the Andhra Pradesh, passed away peacefully on Monday, September 21, 2020. He was a resident of the Pittsburgh area for nearly five decades and a pillar of the Indian American Community. He leaves behind Dr. Sitalakshmi, his beloved wife of 56 years of marriage, his four daughters — Jyothi Jayaraman, Madhavi Rubbo, Jyothsna Nunna, and Manjula Evans — who he referred to as "my four angels," six grandchildren, an extended family of relatives, and a large number of friends in the Indian American community. Bhushan's efforts in promoting classical Indian performing arts and his pioneering leadership in establishing an authentic Hindu Temple in Pittsburgh enriched all our lives. Elders of the Indian community in North America acknowledge him for this service simply because fifty years ago, we were not as resourceful as we are today.
My wife Mani and I first met Bhushan socially in 1971. We got to know him more at the Hindu Jain Temple in Monroeville, especially during "The Conflict." We worked with him during the formation of Sri Venkateswara Temple and for over forty years since then. Over the years, my admiration for him had grown for his integrity, his attention to details, and his courage to fight for things he believed in, even if it was not popular.
Nunna was born in 1939 in Kadapa, Andhra Pradesh and graduated from the Manipal Medical College. He married Dr. Sitalakshmi in 1964. He came to New York in 1965, himself first. His wife joined him later.
Bhushan started residency in New York in 1965, followed by fellowships at UPMC in Pittsburgh. In those nascent days of Indian community, Bhushan was one of the first to venture into and succeed in private practice in Butler in 1972. He inspired other Indian physicians to go into private practice. He later joined the staff of the Butler Memorial Hospital, from where he retired in 2001.
Bhushan, in early 1970s, encouraged Ms. Jaya Mani of Slippery Rock, a new immigrant from India trained in Bharatanatyam, to teach dance for children here. Jaya was married to Dr. S.B. Mani, a teaching faculty at the Slippery Rock University (now retired).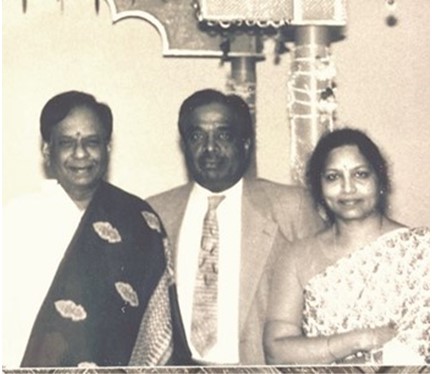 Nunna threw open the basement of his house in Butler for the dance class, and pretty soon during weekends — sometimes even during week-days — his home was filled with students learning dance, and veena lessons offered by his wife, an established veena artist. The dance classes became so popular that they were moved to the basement of an Indian grocery store in Squirrel Hill. It has been growing ever since and has enriched the lives of countless youngsters here. Bhushan's two older daughters, Jyothi and Madhavi, were the first to have their Bharatanatyam Arangetram in Pittsburgh. Thus, the performance arts scene in Pittsburgh started in Bhushan's basement. With passion and deep interest in Indian classical performing arts, the Nunnas hosted many visiting artistes from India.
Bhushan was one of the three incorporators of Sri Venkateswara Temple at its inception. It took considerable efforts by Bhushan to first convince Indians in Pittsburgh the need for a Hindu temple, and then persuade the Tirumala Tirupati Devasthanam officers for their help in building an authentic Hindu temple here. The Tirupati officials were skeptical of the idea after the failure to build a Venkateswara Temple as part of the Monroeville Hindu Jain Temple. Eventually, they wholeheartedly embraced the idea for the S.V.Temple here in Pittsburgh. The tie up with the Tirupati temple was invaluable in the formative years.
Bhushan was the first Chairman of the Board of Trustees of the Temple and he continued to serve the Temple to the fullest extent he could in official and other capacities. His leadership and unflailing support for the causes he believed in helped in establishing the Temple as a unique institution for Hindus in North America.
Echoing similar thoughts, Saraswathi and Thippeswamy Channapati of Butler, who knew the Nunnas for decades, add: "Nunna-Garu, an attentive and compassionate physician was busy, and still found time for community work, like revising the bylaws for Butler Memorial Hospital. He applied the same energy and attention-to-details in establishing the Sri Venkateswara Temple. In the early days, he himself videotaped hundreds of hours of cultural programs of children and professionals alike at the temple. He was so committed to the temple that even during his final days, he passionately advocated the need for changes and reform. Dr. Nunna believed in putting principles over personal relationships."
The cause of his death was complications following open-heart surgery. Dr. Nunna received a traditional Hindu cremation service in Butler, with Shri Venkatachari from S.V.Temple as the officiating priest. Bhushan's accomplishments are many more. He surely enriched the lives of everyone around here in the early days. God Bless him. END