By Premlata Venkataraman thepatrika@aol.com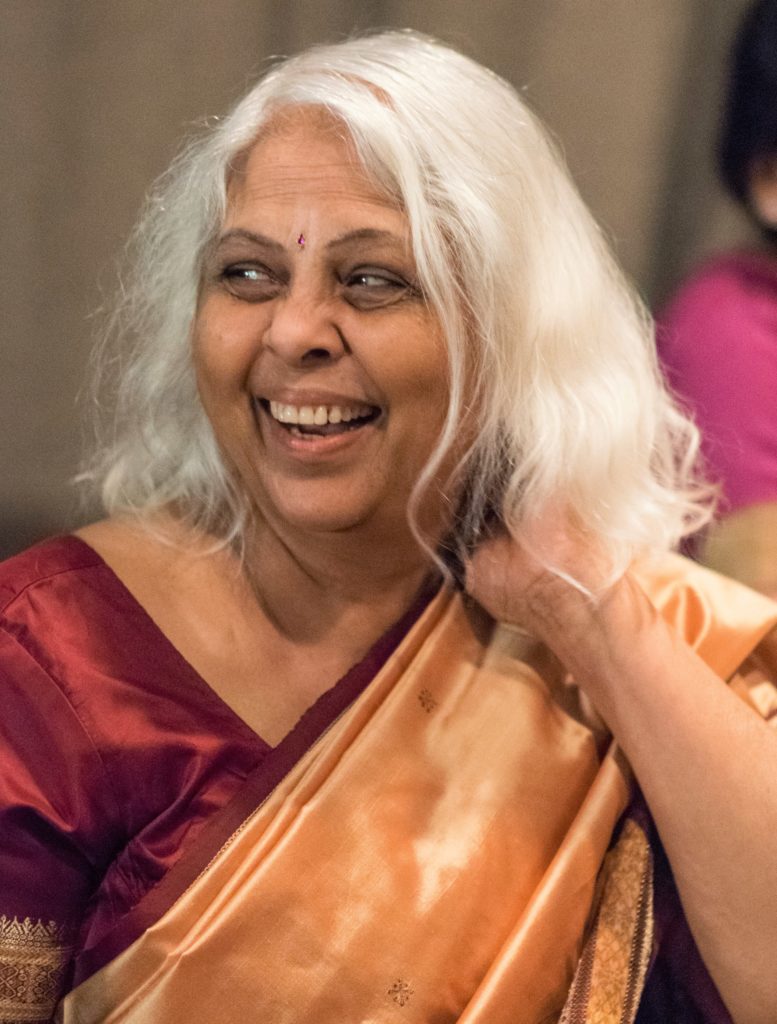 Bhanumathi Pandalai, a long-time resident in our area, well-known to many, and my good friend and inspiration for over three decades, died on December 22, 2020 from complications of breast cancer. She was 77.
Bhanu was born on February 10, 1945, in Thenkara, in Palakkad District, Kerala to Sri P.K.C.Raja and Smt. Sreedevi Kovilamma. She attended Zamorin's Guruvayurappan College in Kozhikode, founded by her extended family in 1877. Her undergraduate degree, earned when she was 19, was in mathematics, with minors in physics and chemistry. She married Krishnan Pandalai in 1965 and arrived in the US in 1966. They moved to Pittsburgh in 1973 after living in Ohio and New Jersey.
Her love of Karnatic music made her a connoisseur of the arts. She and her husband hosted musicians and dancers — both celebrated and little known — in their home for weeks during their concert tours. She was well versed in Sanskrit and Malayalam poetry and prosody. We reveled in her reciting from memory Sanskrit and Malayalam poems in complex meters. In concert halls, she chuckled when Karnatic vocalists mangled lyrics.
While many grapple with issues of identity when migrating to foreign lands, Bhanu seamlessly combined elements of contemporary and traditional values into her life, and subliminally influenced others too who interacted with her. She was nuanced on matters of faith and spirituality, probably on account of her eclectic upbringing in a culturally rich home atmosphere. An eternal optimist, she would seek workable solutions to challenges. Even from her sick bed she talked about forming a group of women to visit bed-ridden elders for conversations and bringing some home cooked food.
When her husband started a business in the 1990s in specialty industrial coatings, she was fully with him. To help herself in the business, she obtained an associate degree in accounting. She would tell her son Gopi, "The subject I did not like in college — chemistry — ended up dominating my life." She was the coatings formulator, analytical chemist, and quality control manager for customers. She herself ran analytical instruments for production and quality control, something she learned on her own.
After her husband Krishnan's death in 2001, she took care of the manufacturing with her son focusing on marketing. Their business saw a three-fold growth, no mean achievement for Bhanu. When she was diagnosed with breast cancer in 2008, she took a leave, but resumed work after a year. In 2018, she fully retired, with the return of the breast cancer.
Shobha Madhav, who knew Bhanu for well over 40 years, recalls: "Whenever I faced a stressful situation — and there were quite a few in my life — I would think how Bhanu handled her challenges with fortitude and optimism. We talked about this among ourselves. I am glad I told Bhanu she was my inspiration. Decades ago, in pre-cellphone days, she picked me up from the airport at 1:00 am in snowy winter when my husband missed his flight to meet me at the airport."
Jayashree Ranka of Monroeville, younger to Bhanu by decades, helped her during the cancer treatment. She fondly says, "Bhanu's smile and glitter in her eyes were infectious. She never complained about what she was going through. She had a great sense of humor. We enjoyed many cups of tea over the years. She was an open minded Aunty, never judgmental."
Rajshri Gopal, a long-time friend, now living in Falls Church, has shared many of her challenges in life with Bhanu. She remembers, "Bhanu was multifaceted, a well-polished high priced gem! She was a connoisseur and charming hostess to musicians, and a fun-filled friendly mentor to youngsters. She was a tireless, unassuming volunteer at the temple. To people like me she was an irreplaceable confidante — a rare treasure."
Bhanu's daughter Dr. Sudha Pandalai, a physician, was a great source of strength for Bhanu towards the end of her struggle. Sudha is with the federal government's CDC as a specialist in occupational medicine.
Bhanu's mortal remains were cremated at the Jobe Funeral Home in Turtle Creek on December 23, with Purohit Shri Venkatachari helping with the religious rites.  Many will miss Bhanu's enthusiasm and her bright smile that guaranteed that we would find one friendly face in any event around our Indian community.