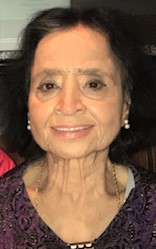 Vijaya B Rao, a long-time resident in our area, wife of the late Raja B Rao, of Penn Hills, PA passed away peacefully on Sunday February 19, 2023 with her loving family by her side. She lived in Penn Hills for decades before moving into hospice care towards the end.
Vijaya came to this country in 1967 along with her husband Raja Rao, who was teaching statistics at the University of Pittsburgh, and young son. She and her husband were able to create a lively life for themselves and their two children. They always kept their faith and roots to India very close to their heart.
In 1976 when the concept of a Venkataswara temple was first mooted by their friends, Vijaya and Raja Rao were quite excited to join the cause. The temple became a community they immersed themselves in. It became for them a home away from their home in India. She and her husband were long time members of the temple where they spent countless hours as devotees and volunteers. They took keen interest in the music and dance programs organized at the temple in those early years.
Vijaya also enjoyed spending time with her family and friends. She was well known among her friends as an excellent cook and a reliable friend. She also enjoyed playing with her dog grandchildren, Cody, Ellie, Lucy & Coco.
At the request of Vijaya, her family conducted a private funeral and cremation ceremony following Hindu traditions at the Beinhauer Funeral Home on West Liberty Ave, Dormont.
Left to cherish Vijaya's memory are her son Harish Rao, his wife Swati of Dallas, Texas; her daughter SriDevi Rao James and her husband Mark James of Oakdale, Pennsylvania; and her grandsons Anish and Anjay Rao and her granddaughter Taylor James as well as several nieces and nephews here and in India. After the death of her husband Raja B Rao in 2001, she lived independently with the continuous support of her daughter Sridevi, who is in the nursing profession.
A special thanks to the Celebration Villas and Bridges Hospice as well as her close friends who provided excellent care and her favorite Indian dishes. — By a friend of Vijaya Rao ∎