Did you know that we have a fully functioning airport on 24x7x365 basis — it even has its own airport code AGC — in West Mifflin, an eastern suburb?
Did you know that till 1954 when PIT came into being, AGC, built in 1931, was the commercial airport for our region's burgeoning travel needs with the growth of the steel industry?
Did you know that ACG was one of the first three airports in the nation, and also the first airport with hard-surface runways?
I too didn't know these facts till I attended the 90th anniversary of the airport in September. This is one reason why we all should take an interest in our region's rich history and what is happening around us right here.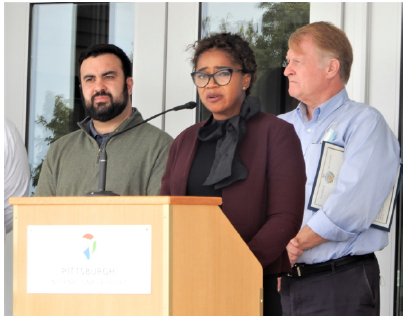 After completing a $2.5 million project refurbishing the airport's passenger facilities, on Saturday, September 25, organizers celebrated the 90th year of the airport. Elected officials and the people who run the airport addressed a gathering on the highlights of the airport.
County Chief Executive Rich Fitzgerald in his brief address informed the audience that the airport brings over $2 billion in business to the region with over 60,000 arrivals and departures annually — mostly charter flights and privately owned planes. The airport also serves other functions, such as medical emergencies, disaster emergencies, and also for training for new pilots.
The Civil Air Patrol (CAP) also operates from this facility. CAP, the official US Air Force auxiliary, is a nonprofit organization tasked by the US Air Force to help in inland search-and-rescue operations and assist in other security-related activities.
A more detailed story on these will be in the next issue. — END