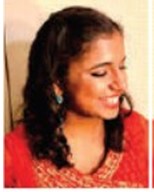 Note: An 11th grader at Upper St. Clair High School, Antara Cleetus is a classical singer and dancer, and an occasional writer and painter. A member of her school's speech and debate team, Antara believes in the power of words: spoken, sung, and written.
In 2009, former President Barack Obama was asked by a 9th grader, "Who would you most like to have dinner with, dead or alive?" Obama responded, "Gandhi, who's a real hero of mine." He also joked, "It would be a really small meal."
Nearly 100 years separate the births of these two leaders. Their homes, nearly 7,000 miles apart. Yet, none of this matters in light of Mahatma Gandhi's global, powerful, and timeless reach. This anecdote related by the emcee, Maneesha Kumar-Cleetus, set the tone for the evening and captured the essence of not just a man, but the legend, Mahatma Gandhi.
Mahatma Gandhi's 150th Birth Anniversary was commemorated on Sunday, October 6, 2019 at the University of Pittsburgh's Frick Fine Arts Auditorium. The anniversary was not just celebrating the man himself, but his enduring legacy. The evening, filled with a sense of unity, bridging gaps between all backgrounds — religions and cultures — featured speakers, interfaith presentations, cultural performances, and student readings.
Chief Guest for the event, the Consul General of India, New York, Mr. Sandeep Chakravorty, spoke of the relevance of Gandhi today, in the wake of the global warming crisis. It's a facet of the Mahatma that often gets forgotten. Everyone knows the pacifist Gandhi but not the ecological Gandhi. Reading excerpts from his writing, "The Ecological Mahatma," Mr. Chakravorty encouraged his audience to apply Gandhi's ideas to solve today's problems.
He then unveiled the new bronze bust of Gandhi, which will be permanently installed in the University of Pittsburgh's Oakland campus Hillman Library. The majesty of the statue resulted in immediate applause. This reaction was as much for the beauty of the bust as for the legacy that it embodied.
The interfaith presentations shared during the program included teachings from Christianity, Hinduism, Sikhism, Buddhism, Baha'i, and Judaism. In fact, within the religious presentations, the spirit of Gandhi came alive. Reverend Rodney Lyde spoke on Christianity and stated that Gandhi's remembrance "was not a dead memorialization, but a living faith." Sanjay Mehta, representing the Hindu community, added that "Gandhi doesn't go where peace is, rather peace comes with him."
In addition, artistic performances by Shrabani Basudev, Nandini Bhowmik, and Nandini Mandal graced the stage like poetry in motion. In twirling silk saris and stripes of green, white, and saffron, Nandanik Dance Troupe recreated the Indian Flag. Gandhi's favorite hymn, Vaishnava Jana To Tene Kahiye, was sung with emotion and fervor by Manju Germanwala, filling the auditorium and the hearts of the audience. Out artist — Francis Cleetus — created a piece of 3D art depicting Gandhi's profile with one piece of rope, symbolic of the single cotton strand Gandhi used to spin on his charkha.
Reverend DeNeice Welch highlighted Gandhi's influence on Martin Luther King Jr. during the Civil Rights Movement. She posed the question, "How can I speak about MLK without speaking of Gandhi's influence on MLK?". Simply put in Reverend Welch's words, "These two brown men did an awful lot to change this world."
The 150th year celebration had the perfect finale. Little tea lights passed on the message for spreading goodwill and peace. Rabbi Jamie Gibson led the presenters and audience alike to sing "Let There Be Peace on Earth." Among the joined hands, soft laughs, and full smiles, it became evident that Gandhi's message still lives on. We left the auditorium with a final quote by Gandhi ringing in our ears: "It is my conviction that nothing enduring can be built on violence." It's a thought that's as relevant in 2019 as it was a century ago.
Editor's note: The renowned sculptor Ram V. Sutar, now in his nineties, created the bronze bust of Gandhi dedicated at the ceremony. He has mastery in realistic sculptures and has been recognized by various countries and artists from all over the world. For more info, go to www.ramsutar.in END