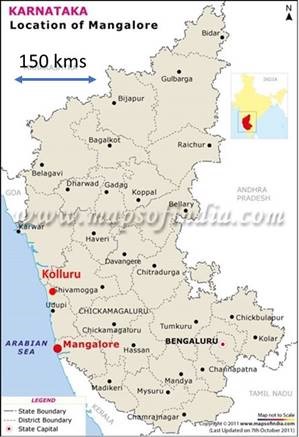 About 90 miles from the coastal city of Mangaluru in Karnataka is the famous Mookambika Temple in the Western Ghat forest. This temple has a fascinating history traceable all the way back to Adi Shankara. Devotees from all over South India, more from the neighboring Kerala State, come here to worship the presiding deity Mookambika as Saraswati, Lakshmi, and Durga. Because of this, aksharaabhyaasam, the ceremony initiating young kids into learning, is conducted all through the year. Young parents come here for this ceremony with their small children accompanied by their family elders. Last December, I was at the temple with my wife, and my elder daughter, her husband and her two kids for the ceremony for the grandkids.
Sitting with a bunch of people with their young kids, coming from diverse socioeconomic backgrounds, was uplifting. Parents and grandparents were squatting on the floor with their young wards. They knew the routine. The priest then placed in front of every child a brass plate with rice paddy spread evenly on the plate and a piece of turmeric root. He then recited Sanskrit hymns seeking divine grace for completing the ceremony of initiating the kids into studies.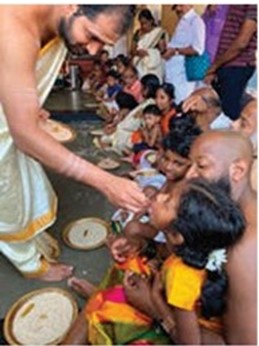 The priest then asked the father/mother/grandfather to hold the tender fingers of the young one sitting on their lap and write with the turmeric root the following: a aa, i, ii, u uu etc. — the Indian alphabets — in their native scripts like Malayalam, Tamil, Telugu, Kannada, Hindi… Then he asked the parents to write the numbers 1 to 10.
These steps made enormous sense. After all, civilizations are built around languages and mathematics. As the Good Old Tamil Grand Lady Ouvvaiyyar said over a millennia ago,

eNNum ezhuttum kaNNenattagum
meaning, "Numbers and letters are the two eyes on our face," because they are necessary to acquire skills and make ourselves useful to others. Otherwise, we become a burden on society.
But the priest did not stop with initiating the young ones only to letters and numbers. He then did something unique and fascinating: he also asked the parents to help the kids to write sa, ri, ga, ma, pa, da, ni, the seven notes in Indian music, similar to do re mie fa solâ… …
What was the priest's motivation for this step in the aksharaabhyaasam ceremony? He was indicating to parents that it is not enough to acquire skills to earn wealth as an end in itself, but also to cultivate interest in aesthetics like music, dance, literature… … both as practitioners and as patrons as well. After all, wealth and resources are for enjoying the finer aspects of life.
The priest conducting the ceremony himself was starkly simple in his demeanor and was by no means affluent. But he had a far better concept of how we should live our lives and use our resources. END