Despite the ominous forecast, it turned to be perfect weather for runners and walkers, which later blossomed into a sunny afternoon! On Saturday, September 14, 2019, the Indian Community and Friends in all its diversity gathered at the North Park Boat House for the sixth year to celebrate the annual 5-k walkathon.
If you were one of the over 500 who attended, you probably enjoyed the ambience of the beautiful North Park Boat House area before you set off on a 5-k or 1-k walk or run around the placid lake. You may have even joined the yoga class to stretch and limber up before the national anthems began. Along the way you may have picked up a bottle of water or dawdled at the color station to create your own custom-designed purple shirt and make yourself even more colorful.
When you made your way back to the boat house you would have found bananas, clementines and piping hot Indian food waiting for you. As you listened to the results of the run and music and interacted with the various non-profits at their tables, your younger children got their faces painted or got Mehndi done for a small donation.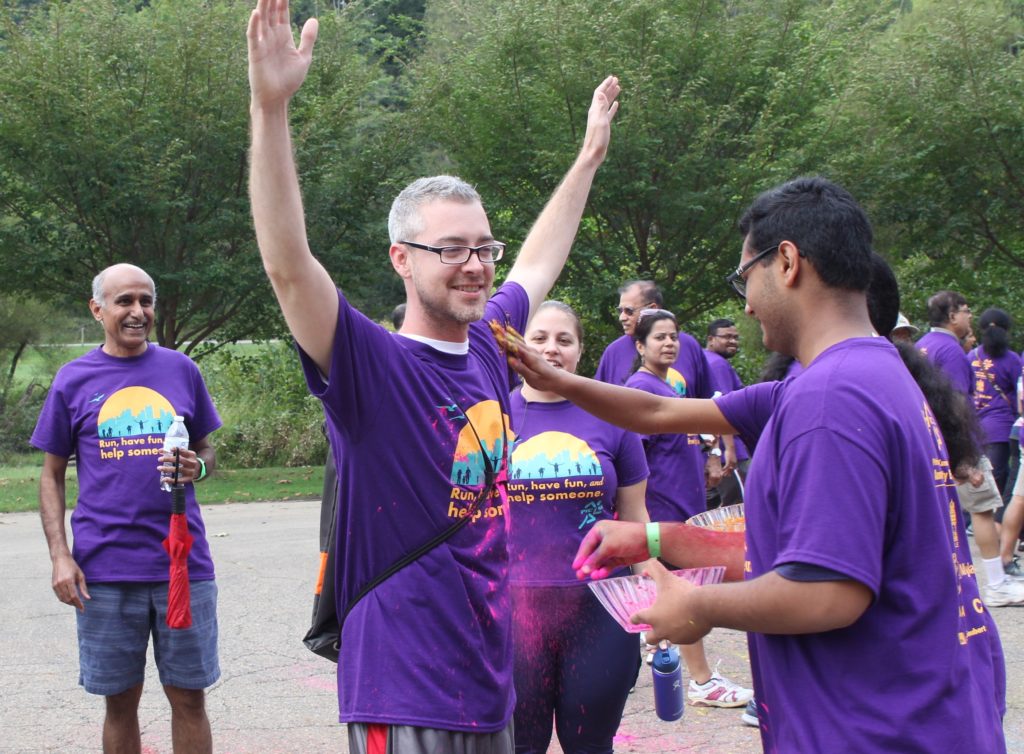 As you enjoyed the delicious food and walked around visiting various tables, you would have bought raffle tickets and dropped then into containers to win tickets to a great Indian music concert or to snag "the biker's basket" from Pro Bike and Run or even tried your chance at winning a collection of wines. Even if you did not win any of the raffles, you went home with great memories, a striking T-shirt, knowing you came together with your community to make an investment in the lives of people in our region.
September is Hunger Action Month! The Pittsburgh Indian Community and Friends partnered with the Greater Pittsburgh Community Food Bank to support the "Breakfast Challenge" at 74 target schools across 11 counties in our region. In addition, we are partnering directly with some schools. As with other causes, this year too 100% of what is invested goes to programs, with not a red copper penny going to administrative overheads.
The PIC-5k event this year raised around $60,000. bringing the total over the 6-year period to $310,000. Over the last five years, the Pittsburgh Indian Community and Friends has invested over $260,000 in our own community in the areas of homelessness, education, healthcare and first responders. All this would not be possible without your involvement as supporters, donors, volunteers and sponsors. Thank you! END 