Radha Rao, a long-time resident in our area known to many, was born and raised in Chirala, a coastal town in Andhra Pradesh, India. After marrying Madhusudhan Rao, she moved to Pittsburgh in 1969. With her bachelors' degree from Andhra University, and an MBA from Pitt, she worked at Carnegie Mellon University for 25 years. She is retired now. She volunteers at the S.V. Temple. She fondly recalls taking to Duquesne University decades ago for getting the 30-minute Music from India program on 90.5 FM.
Srinivasa Prasad International Foundation for Performing Arts (SPIFPA) hosted its 2019 Pittsburgh Cultural Festival of South Asian Performing Arts on Sunday, October 6th at the Fox Chapel Area High School Auditorium. Varaprasad and Parvathi Gutti of Latrobe, long-time residents and enthusiastic patrons of Indian performing arts for decades here, established SPIFPA as a non-profit 501 C (3) in 2005 in loving memory of Vasu (Srinivasa Prasad), their beloved son. Vasu, a passionate enthusiast of Kuchipudi and other Indian dance forms, died in a freak auto accident in 2004 and it was Vasu's ambition to promote South Asian performing arts among North American youth.
A few hundred people attended this day-long event, where more than ten dance and music schools from the greater Pittsburgh area show-cased the talents of their teachers and students.
Inaugural session started with Deeparadhana and Invocational songs rendered by Sitalakshmi Madhavan, Saraswathi Chelluri, Sujana Mulukutla, Sheela Ganesh and Subha Sriram. They were accompanied by Shankar Krishnamurthy & Apoorva on violin, and Ganesh Iyer & Arjun on Mridangam. It was followed by Shri Varaprasad Gutti's introduction of the Chief Guest for the event, Veena Vadya Vidya Visharada Sri Ayyagari Shyamasundaram from Andhra Pradesh, India. As part of the invocation session, Vasanta Krishna Lakkimsetty (Vasu's niece) presented a touching Premanjali in the Kuchipudi style, memorializing Srinivasa Prasad Gutti. It certainly brought back several fond memories of Vasu to those who knew him.
In the forenoon session, artistic directors and students from Jaya Mani's School of Bharatanatyam Dance (Director, Prof. Jaya Mani), Sitalakshmi Madhavan's School of Karnatic Music (Director, Sitalakshmi Madhavan), SPIFPA School of Kuchipudi Dance (Director, Bindu Madhavi Gutti Rachuri), and Nandinik Dance Academy (Director, Nandini Mandal) presented their skills.
All the artistes and guests were treated to a sumptuous lunch during the mid-day break.
In the afternoon session, artistic directors and students from Natyakriya School of Bharatanatyam Dance (Director Shobhita Ravi), Sangeetha Saramaya School of Karnatic Music (Director Sujana Mulukutla), Sheela School of Carnatic Music (Director, Sheela Ganesh), University of Pittsburgh Team Pitt Nrityamala (Directors, Jothika Gorur & Nithya Kasibhatla), Courtyard Dancers of Kathak Nritta (Director, Niana Roychowdhury Green), Nritya Sumanjali Academy of Kuchipudi Dance (Director, Sumalatha Sri Ramoju) and Sanskruti School of Indian Dance and Music (Director, Shambhavi Desai) showcased their talents.
The highlight of the day was Sri and Smt. Gutti facilitating the Chief Guest Sri Ayyagari Shyamasundaram. Following the felicitation, Sri Shyamasundaram responded to the felicitation with a melodious veena recital which concluded the cultural program. SPIFPA honored all the gurus and artists that enriched the festival with their participation and presentations.
No doubt all the guests were treated to several Vindus or feasts (Vindu in Telugu and Virundu in Tamil) that day – Veenula Vindu (musical feast for the ears), Kannula Vindu (dance feast for the eyes), followed by a Vindu Bhojanam (grand Indian feast).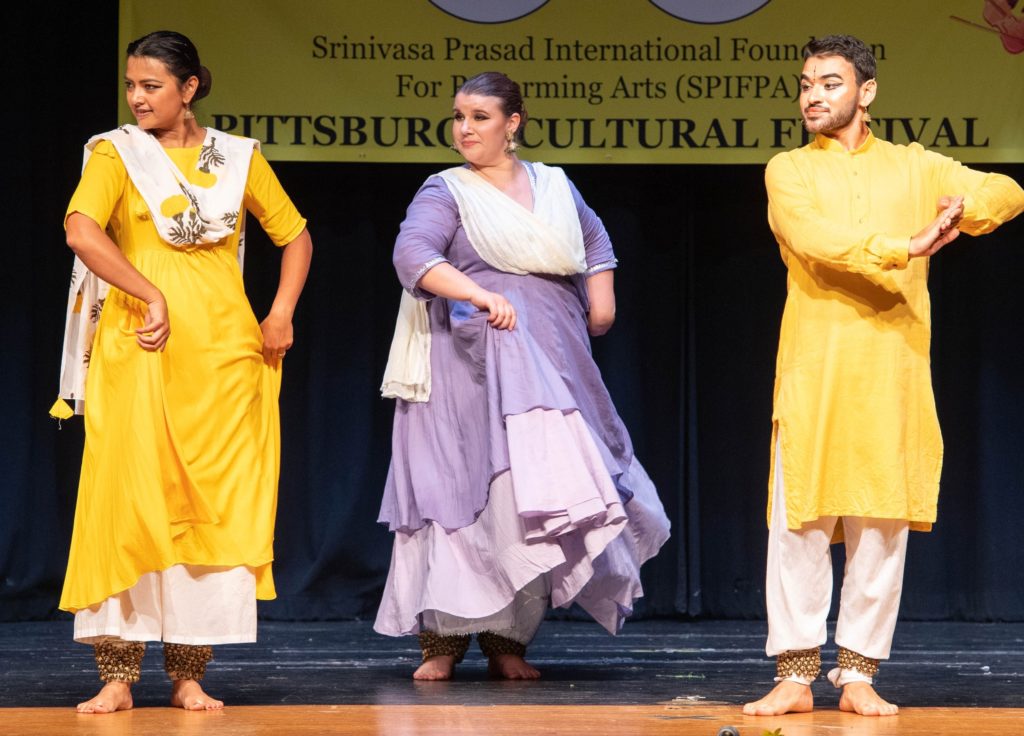 SPIFPA did a marvelous job in planning and executing this year's program, which required lots of logistical details in managing the stage and lighting for all the different programs. I am happy to acknowledge the dedicated team of volunteers working on stage and back stage, taking care of all the needs of the artistes and guests. END 