Editor's Note: For a variety of reasons, Indian classical dance teachers have been reluctant to choose songs for their recitals from the large collection of classy film songs rooted in pure Indian classical dance traditions. Jaya Mani, our veteran dance teacher, breaks this unwritten taboo by staging a program entirely taken from films songs.
On Saturday, May 18th, 2019 at the Sri Venkateswara Temple auditorium, twelve senior students of our veteran Bharatanatyam teacher Jaya Mani presented a unique and enjoyable Indian classical dance program titled in Tamil "Pazhaya Paadal Puthiya Aadal " (Old Songs & Modern Dance"). The songs were from movies dating back to 1948 through 1988 from Tamil movies such as Vedhala Ulagam (1948); Manamagal (1951); Vanjikottai Vaaliban (1958); School Master (1958, Telugu); and Katputli (1957, Hindi). Jaya Mani and her students choreographed the pieces, sometimes independently and sometimes jointly.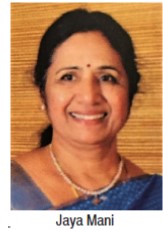 With Deepa, Jaya Mani's daughter, co-directing, Subha Sriram emceed the program introducing each piece giving the filmi tidbits for each song, such as the lyricist, music director, playback singers, and actors. This kept the audience engaged.
Details of these songs have faded away even for old timers. Many youngsters were probably listening to these songs for the first time. But the lyrics for the songs by great poets (Subramanya Bharathi, Papanasam Sivan, Kannadasan, Udumalai Narayana Kavi and others), the music direction by masters (K.V.Mahadevan, G. Ramanathan, Sankar-Jaikishan…), and the enchanting voices of M.S.Subbulakshmi, M.L.Vasantha Kumari, P. Leela, and Lata Mangeshkar are enshrined in our hearts forever.
Jaya Mani and her students took us back to the golden era of Indian movie classic songs, creatively choreographing the songs to the idioms of the Indian classical dance traditions, adding jatis and abhinayams making them lively and enjoyable.
Songs such as Theeratha Vilayattuppillai and Kuravanji dances have been part of the Bharatanatyam repertoire for decades, but dances to songs such as Ellam inbamayam (Deepika Narayanan and Kavya Suresh, Rupa Bashyam and Tanvika Sriram) and Kannum kannum kalandu (Shravani Charyulu and Arpitha Udupa) were real treats.
Jaya and the artistes' maiden attempt to bring the best of old and new together was enjoyable and made us wish for the good old days when we could sing along, unlike the contemporary movie songs dominated by beats and rhythm with the orchestra overwhelming the human voice.
All the songs used straight film clips running only 3 or 4 minutes, which is necessitated by the time constraints of films. However, there is enough scope in these songs to re-record them by adding more jatis and swarams to expand them as stand-alone 6-to 8-minute pieces as in padams in Bharatanatyam recitals. ♠