Premlata V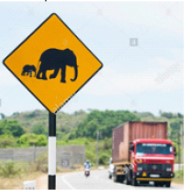 This could happen only in Hamara Hindustan. An elephant went missing, not in one of the Kerala-Karnataka Temples where elephants are part of the temple retinue. And not in their natural habitat in the Western Ghats in Tamil Nadu, Kerala and Karnataka, where road signs display elephant corridors warning motorists of herds of wild elephants crossing — like deer crossing signs here. Remember, these winding roads in India go through the natural forest habitat of the elephants. So, on these roads elephants have the right of way over motorists for road crossings. See the picture below.
But this elephant went missing in July this year in — hold your breath — of all the places, metropolitan New Delhi with a bulging population of over 18 million people. And Laxmin, the elephant, was the only one in the entire Delhi Metro area at that time.
According to the story in the Indian Express (September 17, 2019), the missing elephant Laxmi kept the Delhi Police and wildlife officials on its tail since July, with a nationwide alert being sounded. The 35-year old pachyderm was last seen along the banks of the Yamuna. But Laxmi was kept right in New Delhi all the while by her mahout Yusuf Ali.
The relationship between elephants and its owners and mahout is symbiotic. Often, elephants outlive their mahouts and when the mahouts die, elephants weep in grief and refuse food for days.
Delhi's wild life officials said in early January, Laxmi and five other elephants in Delhi were kept in "poor housing and health conditions and lack of suitable space and water facilities in Delhi, violating the 2008 guidelines by the Union Environment Ministry."
One wonders why these "wild life" officials don't recognize the wild species of Homo sapiens in Delhi living in fancy high-rise apartments living their "wild lives" with impunity.
In mid-September, The Indian Express staff met the elephant's owner Yusuf Ali (45), who was with Laxmi in Delhi. Evading arrest, Ali said he and Laxmi never left the capital. Initially, he "hid" Laxmi in a wooded area along the Yamuna.
One of Ali's friends then told Ali he had a large farmhouse where he could keep Laxmi. And that is where she had been ever since she went "missing." Ali took her out every evening for a walk for about an hour or two. Ali would occasionally step out of hiding to buy food for Laxmi and to meet his family. Even when he didn't have enough to eat, he took care of Laxmi. He would arrange a 500-litre water tanker every day along with sugarcane and jowar.
Mr. Ali now has a non-bailable warrant against him under IPC sections 353 (assault or criminal force to deter public servant from discharge of his duty) and 186 (obstructing public servant in dis-charge of public functions). Ali says he will abide by the court's decision. "This is my elephant, and I have an emotional attachment with it." $$$$