Nandini Mandal has now become synonymous with a talented dancer, teacher, brave and resilient survivor, and a cultural ambassador of India in Pittsburgh. It was a long, difficult but exhilarating journey.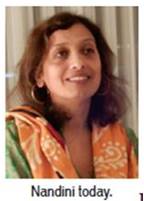 We have known the ever-smiling Nandini since she came to Pittsburgh. She was not a household name when she landed in Pittsburgh from India in 1995. She being from Bengal, her talents were first recognized in the Bengali Association of Pittsburgh. Very many years ago, she was invited to give a performance for the Annual Triveni Family Variety Program. Her amazing dance pieces are still talked about. Just as a rooster cannot take credit for the sunrise, Triveni International cannot take credit for the trajectory of Nandini's rise in the area; it was just one of the many platforms.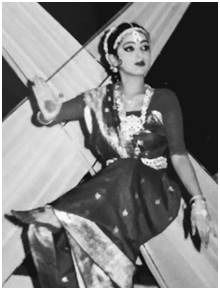 It did not take long for Nandini's creativity to be known to all Indians — and also non-Indians as well — in Greater Pittsburgh Area.
Even as a young child she stomped and broke into dancing to the beat of music and ghungroo. The inborn talent was quickly recognized by her pare
nts. Her mother, a school teacher, took Nandini to dance lessons. Her father, working in the Indian Railways in Kharagpur, too was very supportive. She started getting formal dance training when she was seven. In 1983 she obtained Junior Diploma in Hindustani Classical music. She earned her Senior Diploma, Sangeet Prabhakar, from Allahabad University with distinction in Bharatanatyam at the age of 14 under Guru Snigdha Pal. In the same year she completed her Arangetram. She also got training in Kathakali, Manipuri, and Nava-Nritya. Credit for the variety of dances in India, she tells, goes to traders and invaders who added new touches to the already existing Natyashastra-based dance traditions.
Later, when she continued her education in Calcutta, her passion for dance followed. She trained at the Kala Mandalam focusing on Bharatanatyam and Nava-Nritya.
Her Bharatanatyam was Tanjavoor School (Gharana). Her structured courses on the theory of Indian dances at college were extremely helpful when she took practical classes under traditional teachers.
After her marriage, she came to Pittsburgh where her husband was employed in the early boom period of the IT industry in the US. The Mandals are blessed with two daughters.
She founded the Nandanik Dance Academy and the Nandanik Dance Troupe in 19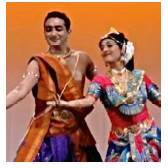 98, where she is the director since inception. She teaches Bharatanatyam, Nava-Nritya, Folk, and contemporary dances. In her classes in Pittsburgh, she tries to teach her students the theoretical foundations to the extent possible.
In life, nothing goes up in a straight line. She developed aplastic anemia which required multiple blood transfusions. Her Indian friends in this town gathered together helping her in many ways — anything from arranging food, monetary help for the long duration of hospitalization and medical care, and social support for their beloved Nandini aunty teacher, mentor and friend, and her betis. This, combined with her grit and determination to live to full under very trying circumstance and share her God-given gift with children and adults, made Nandini survive through the ordeal.
Due to her sickness she lost movement in her thigh bone joint. This required joint replacement. For any dancer, this generally means end of dancing career. But Nandini is not any dancer. Her obstacles did not stop there. She continued with her dance, while restricting her acrobatic moves.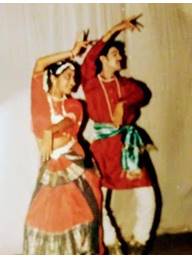 In the middle of all this, she developed an aggressive form of Acute Mylogenous leukemia. The only cure was bone marrow transplant. Her social network once again went into full gear searching for a compatible donor all over the world. An anonymous donor's marrow matched. She went through a successful surgery, followed with chemotherapy and a lengthy recovery period. She was fragile, having to raise two daughters.
She endured through all this with her grit and smile, and she was able to beat the disease, usually associated with high mortality rate. She credits her survival to the excellent timely care by cancer experts in New York and well-earned social support she received from friends. The strong will to live also critical.
All through this, simultaneously she was struggling with personal issues too. She and the family survived this bitter part of their life as well. She credits her father's support and for her and positive attitude for coming out of the many challenges.
Nandini continues to pass on her talent to her own daughters and hundreds of children in the Tri-State Area. She has given solo and group performances in and around Pittsburgh, and in other states in the US and India as well choreographing several dance programs. Her numerous activities include being an Art Activist, Event Planner and manager, Interpreter and Translator…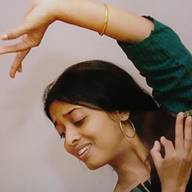 She spreads her understanding of dances, music and various facets of India in numerous schools in and around Pittsburgh. As the cultural ambassador of India with World Affairs Council's Pittsburgh Chapter, she did a series of lectures at schools in Allegheny and Washington counties. She actively has collaborated with local artists such as Mary Miller, Africa Yetu and Dr. Sheila Collins.
She has performed dances in the presence of Mother Teresa, Dr. A.P.J. Abdul Kalaam, and India's Air Chief Marshall where she raised funds for the fallen soldiers.
After receiving so much help from society, she is conscious that she needs to give back to the society. Her fundraising activities include Light the Night Walk for Leukemia Lymphoma Society, Dance for Cure for the American Cancer Society Relay for Life. A video of her choreographed dance is being used in India to help raise awareness for need of sanitation facilities for girls. A still photograph of this video, taken with the fountain at the Point State Park in the background was on the cover page of the Pittsburgh Patrika.
Nandini is one of the recipients of the Artist Opportunity Grant of 2016. Due to the efforts of Nadanik Dance Troupe, the Mayor of Pittsburgh issued a proclamation declaring November 14, 2014 as Prakriti Day.
Recently, in February 2018 her efforts and talents were recognized by the Pittsburgh Art Council. She is the first Indian/American to receive a grant of $12,000 for the production of Vilaya.
She feels bad that with so many high-caliber professional dancers living and actively performing in Pittsburgh, the community prefers to invite outsiders, glossing over the "Local" artists. Her dream is to one day perform in larger well-known theaters in Pittsburgh. Wo subah kabhi tho zaroor aayegi (Someday that morning will definitely come!)
In addition to teaching and choreographing dance programs, she enjoys reading, listening to good music and gardening. There is not a dull moment in her life.
Nandini declares, "Humans start dancing when they are born. Just watch the movements of babies." Her motto in life is "Push forward and do not give up."
Pittsburgh is richer and a better place to live for Indians because Providence brought Nandini to live among us to realize her dreams here. We wish her success in every sphere of life. ♣