By Kollengode S Venkataraman
On a wintry January evening, the Greater Pittsburgh Arts Council organized a Gallery Crawl for lovers of the visual arts to "crawl" from one venue to another to enjoy the works of Pittsburgh-based creative minds at several galleries and public places. The artists were also present to answer questions; music programs and a comedy improv also were part of the crawl. Part of the crawl was the works of Indian-American visual artist Francis Cleetus at the gallery at 810 Penn Avenue  downtown.
Cleetus was born in Bombay (now Mumbai). "Even from my early childhood, I always had interest in visual arts," he says. He helped friends with their drawing-related homework assignments at school. He says, "My dad, who worked for Reader's Digest, encouraged me in my pursuits."  Cleetus went to St. Pius High School in East Bombay, where his English teacher Mary D'Souza encouraged his creative pursuits. She was his inspiration.
After earning his bachelor's degree in chemistry from the University of Bombay, he worked as a chemist at a tire company. He soon realized that was not his calling. He went on to earn his diploma in Advertising Management from the Advertising Agencies Association of India. While working on multi-media campaigns for clients, he kept his creative instincts alive. Along the way, he won awards at agencies like Draft FCB, J. Walter Thompson, and Doe Anderson in India. He
developed his style as a painter, designer, illustrator, cartoonist and sculptor. But Cleetus had no formal education or training in visual art. His talents are instinctive, endowed by Mother Nature.
After living in Hong Kong for nine years with his wife Maneesha, Cleetus joined MARC Advertising as its Creative Director in Pittsburgh.
A few years ago, when Phipps Botanical Conservatory organized Tropical Forest India, a 3-year live exhibition, Cleetus' mandala-type painting decorated the roof of the South-Indian-style entrance created by our own Sthapathi Ayyachami Narayanan of Monroeville.
Cleetus is currently with Mylan's global creative & design services team working on logo designs, print ads, billboards, digital ads, websites, exhibitions and more.
When asked why all of  his paintings on display are inspired by Indian themes, his reply was quite simple and direct: "Because that's who I am."   But his sculptures and drawing also have universal themes  in terms of imagery.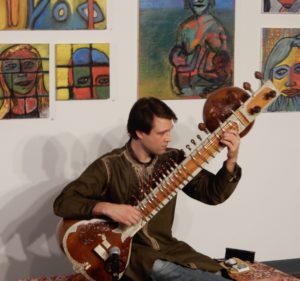 On the inaugural day, Michael Griska was on the sitar adding to the excitement and enjoyment. See the picture on the side.
Cleetus lives in Upper St Clair with his wife Maneesha and two daughters, Ananya and Antara. More information about Cleetus is here.
Visitors can see Cleetus' works at the Karmalogue Gallery during weekdays' by arranging appointments with Christiana Leach at the Greater Pittsburgh Arts Council (GPAC) at 412.391.2060 Ext 228. The next Gallery Crawl is on April 27 from  5:30 PM till 10:00 PM, when you can see the works of other artists in galleries and other public places.   ♣