By Srujana Kanjula, Wexford, PAÂ  Â  Â  Â  Â  Â  Â  Â Â srubru@rediffmail.com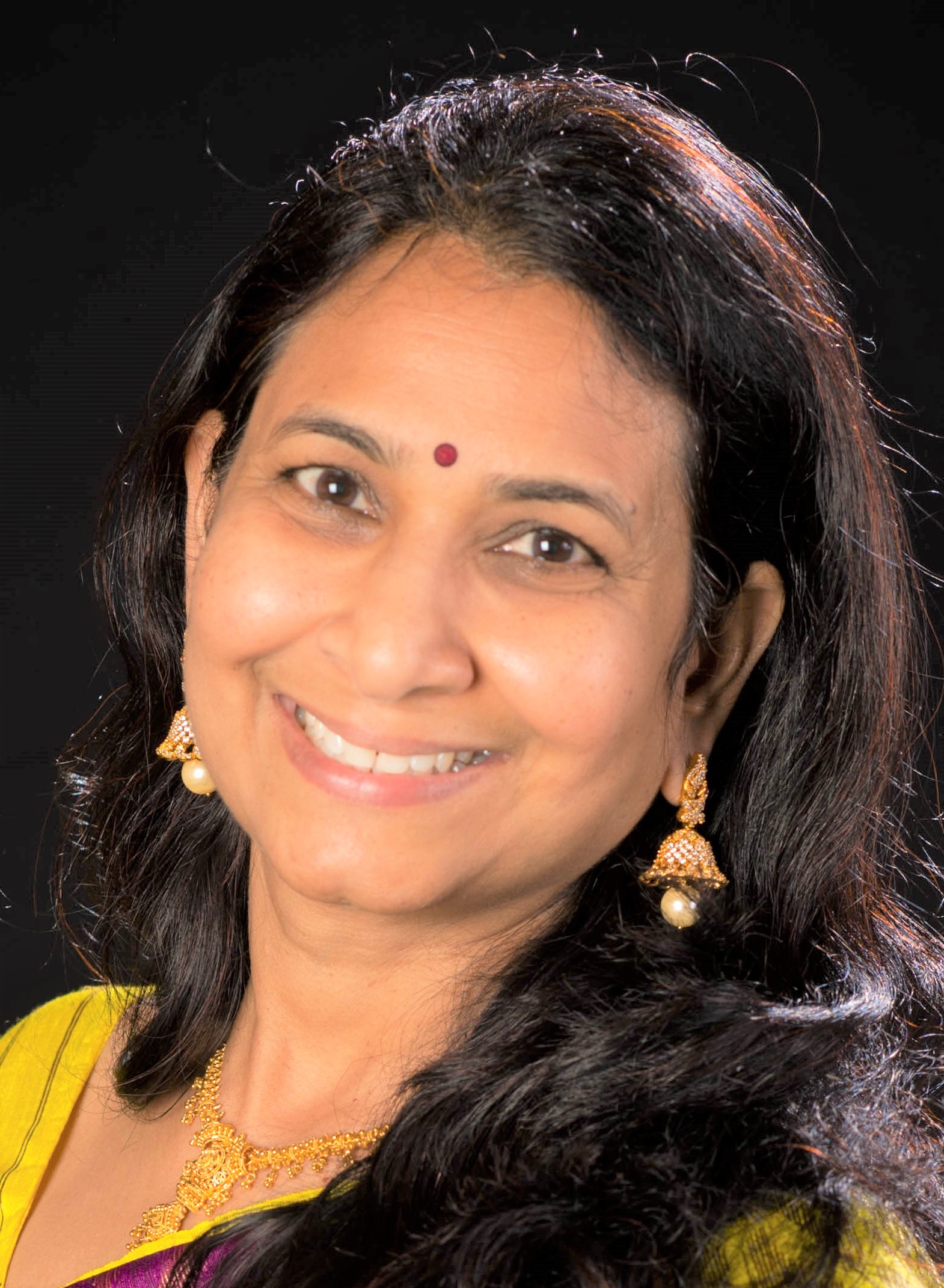 Editor's Note: Srujana (picture on the side) was born in Tirupathi and had her schooling at Anantapur, in Andhra Pradesh. After her MA in Political Science from Hyderabad Central University, she completed her MPhil and PhD from Jawaharlal Nehru University (JNU), New Delhi. She teaches political science and sociology at the Community College of Allegheny County (CCAC) at North Campus, and lives in Wexford, PA.
The founder of the dance school Natyakriya, Shobhitha Ravi (picture below), with fifteen of
her students, presented the dance program, Sri Vidya Shakti, on October 6, 2018, at North Hills Middle School, celebrating ten years of teaching Bharatanatyam. The theme of the production Sri (wealth), Vidya (knowledge) and Shakti (strength) was in praise of Devi, the universal mother in Hinduism. The program coincided with the Navaratri festival in which Hindus celebrate Devi in the form of Lakshmi (Sri), Saraswati (Vidya) and Parvathi (Shakti).
The program was divided into three sections, each focusing on one theme with the dancers in traditional bright costumes performing three items in each section. The young dancers were good with abhinaya, a coordinated combination of movements of the legs and footwork and hand gestures to rhythmic music and facial expressions, all to convey stories.
It was a ticketed event, with all the proceeds benefiting EKAM USA Foundation, a non-profitorganization committed to providing healthcare to needy babies and mothers in India to reduce the mortality of mothers & infants at child birth.
The program was a success with good attendance helping a social cause. Shobhitha's solo dance was impressive and her students were energetic, enthusiastic, and talented. Their hard work and love for dance was evident throughout. The master of ceremonies, Sandhya Rao, impressed the audience, describing the dance pieces and relating them meaningfully to the nine-day Navaratri celebrations. Carol Schneider, the World Languages teacher at Shady Side Academy Senior School aptly remarked, "The dances were stunningly beautiful and exquisitely choreographed. The movements, the music, and bright costumes combined to make the experience enchanting and enriching."
Natyakriya, founded in 2008, strives to preserve and spread Indian art and culture here. From a small base of eighteen students, the school now has over 100 students. Over the years, ten students have completed their arangetram under Shobhitha, a disciple of Natyakalavathi Jaya Mani, who trained Shobhitha in the Kancheepuram Ellappa Pillai tradition.
With a passion for dance and patience, Shobhitha mentors and inspires her students. We wish her well for continued success in the years ahead in teaching Bharatanatyam and touching the lives of many children and parents in such a profound manner.  ♠