By K S Venkataraman, Monroeville, PA
Beginning April 2, 2019, a new nonstop service starts between Pittsburgh International Airport and London Heathrow. The British Airways flight operates four days a week using the Boeing 787 Dreamliner, one of the newest aircraft in its fleet.
A British Airways official in his press release said, "British Airways is very excited to be returning to Pittsburgh and offering travelers a nonstop service to London and easy connections to Europe. Both cities have rich histories and bright futures and we look forward to welcoming new customers from Pittsburgh onboard very soon."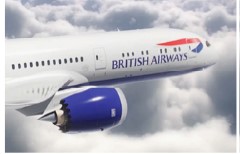 London and British Airways are well-connected with other parts of Asia and Africa. So, with this flight, travelers from the Pittsburgh area can save travel time by flying nonstop to London from here, and with one stop in London, they can reach Delhi, Mumbai, Chennai, Bangalore and other cities with direct flights from London. If you can put up with one more stop, you can pretty much reach any second-tier Indian city through Dubai, Doha, Abu Dhabi, or Mumbai.
The British airways flights operates on Tuesdays, Wednesdays, Fridays and Sundays departing from London Heathrow at 5:00 PM and landing in Pittsburgh at 8:15 PM. Flights will then depart Pittsburgh at 10:00 PM, arriving in London at 10:35 AM the following day.
"We are thrilled to have British Airways serving our region nonstop to London once again," said Christina Cassotis, Pittsburgh International Airport CEO. "We are looking forward to working together to ensure the flight is a success."
Craig Davis, president and CEO of VisitPITTSBURGH, an organization dedicated to promote tourism in Pittsburgh said "The mission of VisitPITTSBURGH is to bring Pittsburgh to the world and the world to Pittsburgh. This flight will help us draw even more international travelers and strengthen our status as a premier destination." ♠