By Sudha Dixit, Wexford, PA
Sudha Dixit, a long-time friend of Mani Balu, lived in Uniontown before she and her husband moved to Wexford. With her husband Niranjan practicing medicine, Sudha lived in Uniontown for decades as Mani Balu's neighbors.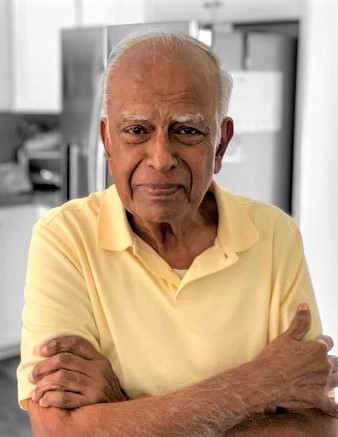 Dr. Mani Balu, a long-time resident of our area who practiced pediatrics in Uniontown for several decades, suffered a cardiac arrest on March 28, 2022, and passed away even before the emergency medical staff arrived. He was 87.
Mani Balu was the youngest of six siblings, born in 1935 in Thoothukkudi in Tamil Nadu. Mani completed his medical degree at Kilpauk Medical College in the late 1950's. He was posted as a civil assistant surgeon for Tamil Nadu in various small towns. He married Shantha in 1961. They had two children, Ravi, and Latha, while in India. The Balus came to the United States in 1968, with Mani wanting to train in pediatrics. He studied pediatric endocrinology in New York's Queens General and Long Island Jewish hospitals. After completing training, the Balus moved to Big Stone Gap, Virginia. Later, in 1993 they moved to Uniontown, PA, with Mani joining Dr.Thomas D'Auria to practice pediatrics. After Dr. D'Auria's retirement, Balu continued and expanded the practice in Uniontown, with three pediatricians joining him.
Dr.Mani Balu retired from his practice in Uniontown in 2015 and moved to Monroeville to be close to their son, Ravi Balu. In his retirement, Mani Balu annually went to Chennai and spent several weeks in Chengalpattu, treating leprosy patients. With Shantha's dedicated support, he silently continued his philanthropic work there from his own resources, be it for leprosy relief efforts or funding education for young girls and underprivileged children.
Balu was an avid reader of the classics and Hitchcock. He was an ardent fan of Raj Kapoor songs and cricket. With his friends practicing medicine in Uniontown, Balu would watch cricket matches and travel to many places. Personally for me, Balu was my Pediatric Help Hotline while we were helping our daughter raise her two children. Mani Balu was known for his humility, generosity, compassion, and openness towards his friends. The Balus bore their painful personal losses with stoicism, fortitude, and resignation.
Dr. Mani Balu leaves behind his wife Shantha, and his son Ravi Balu, his daughter-in-law Raji, his two grandchildren, and a large number of his friends. Mani Balu was cremated on March 29, with Pandit Gopala Bhattar helping Dr. Balu's son, Ravi, with the Vedic cremation rites. Dr. Mani Balu's family organized a memorial service in Monroeville in early April with a number of his friends in attendance. ∎