By Som Sharma, Monroeville, PA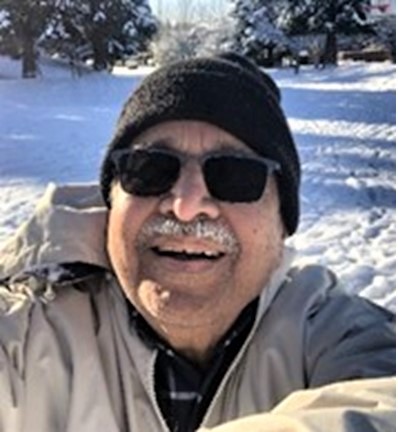 Manjeri Raman, known as Jeri to his colleagues and friends, who lived in the Pittsburgh metro area for decades before moving to Savannah, GA, died on August 4, 2022. The cause of death was complications from esophageal cancer.
He graduated in chemical engineering from the Alagappa Chettiar College of Technology in Chennai in the early 1960s. He came to the US in 1967 for his graduate studies in chemical engineering at the University at Buffalo in the SUNY system. Krishna, whom he married in 1970 in Chennai, India, joined him later.
Manjeri's long career in marketing was with Spencer-Kellogg (Buffalo, NY), Calgon Corporation (Pittsburgh, PA), and SNF Holding Co. (Riceboro, GA). With his easy-going disposition in working with people from diverse backgrounds and his natural leadership skills, he rose to senior positions. In retirement, he worked as a marketing consultant. He traveled extensively, both domestically and internationally for work.
I first met Manjeri and Krishna as curious students of Advaita Vedanta during Swami Chinmayananda's first visit and Jnana Yajna in Pittsburgh in 1978. He was drawn into the Chinmaya Mission's activities. With him and many others, we organized several week-long lecture series on the Gita and Vedanta topics by Swami Chinmayananda himself and by other monks of the mission. A special one was the Chinmaya International camp at the Slippery Rock University in 1984, when we rented the entire campus for 10-days, a one-of-a-kind event then. We travelled together to many Chinmaya spiritual camps in other cities. In Savannah, he started the Chinmaya Satsang, which is quite active today, with participants both of Indian heritage and from the American mainstream.
He was in the S.V.Temple's governing bodies, where he was known to run committee meetings and participate in them with great elan.
Manjeri was cosmopolitan and open-minded and had a unique gift of making everyone feel special. He was comfortable with his circle of friends from diverse Indian linguistic and sub-cultural groups, as well as other nationalities and races. He did not let his vulnerabilities get in the way of learning or seeking help from others in any aspect of his life. Raman and Krishna loved to travel, going to many tourit and pilgrimage sites.
He volunteered with Hopelink in Redmond, a Seattle neighborhood in Washington state. He also tutored fifth graders in math at Gould Elementary School in Savannah.
Raman was a voracious reader with interests in politics, society — he admired Mahatma Gandhi — and football, tennis, golf and, of course, cricket. He was an avid tennis player and a golfer. He loved Karnatic music and light entertainment movies in Indian languages. A loving and caring partner and father, Raman was a friend, philosopher, and guide to his children Anandi and Arvind. He was fond of his wonderful life partner, Krishna, a courageous and independent woman in her own right, for fifty-two years.
A storehouse of information, a loving and caring partner and father, a sports enthusiast, a spiritual seeker, a "servant leader," a trusted, large-hearted friend, a conscientious citizen, a fun-loving and easy-going guy, a man of conviction, yet respectful of opposing viewpoints — an almost perfect human being. A life well lived. The mortal remains of Raman were cremated in Savannah, with his adopted son Arvind doing the last rites for him. Later, his family organized a memorial gathering for Manjeri on Friday, September 9, in Savannah, where a large number of his friends from different cities gathered to reminisce and celebrate his memory. ∎