By Shailesh Surti, O'Hara Township, PA
Editor: Music lovers here know Samar and Mala Saha of Irwin as great enthusiasts of classical Hindustani music, having enjoyed many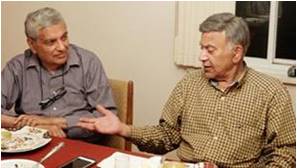 house concerts at the Sahas' home in Irwin.  In this engaging story, Shailesh Surti (left in the adjacent picture) draws out Samar Saha (right in the picture) on his exhilarating journey from his casual interest in Hindustani music to serious, passionate listener, organizer, host, and finally to patron of the music, and more importantly, of the musicians. The venue for this exchange was Shailesh's home in O'Hara Twp, with his wife Urvashi as the gracious host.  
For any type of performing art — music and dance recitals, drama and live stage performances — to flourish anywhere, one needs art lovers, organizers, and patrons willing to underwrite a good part of the expenses above and beyond gate collections.
It is a well-recognized truism that "classical" art forms simply cannot sustain themselves merely on the basis of ticket-buying audience
support.  This is the reality today both in Indian and Western performing arts. In the US, corporations and individual donors make huge contributions to symphonies and operas. In Europe, public funding for the performing arts has been the norm. In India, without corporate and government sponsors, the performing arts simply cannot survive.
 The Indian performing arts scene here:  Pittsburgh has only around 20,000 Indian-Americans, with
fewer classical music enthusiasts compared even to Cleveland, which is demographically comparable to Pittsburgh on many measures. Here, Sri Venkateswara Temple has been organizing and patronizing classical Indian music concerts — especially Karnatic music — on a regular basis.  Other temples also have done so in the past. Students of the Pandit Jasraj Institute of Music have organized concerts of artistes belonging to their gharana.
Fortunately, a few individuals, on their own drive and initiative, have been active in organizing Hindustani music concerts in Pittsburgh for a long time. For over 30 years, Dr. Balwant Dixit, under the banner of the Center for the Performing Arts of India at the University of Pittsburgh, organized many such events, both in Pittsburgh and around North America with concert tours for Indian artistes.  In the early days, Dixit also organized Karnatic music programs in our town.
With Dixit now in retirement, Samar Saha and his wife Mala of Irwin have taken on the mantle for organizing Hindustani music concerts.  Music lovers in our area owe the Sahas a big Thank You not only for their enthusiastic support for the art form, but also, more importantly, for their multi-faceted patronage for the artistes. The Sahas moved into the Pittsburgh area fifteen years ago after Samar retired from a job in New Jersey.  Samar, a metallurgist by profession, joined US Steel's R&D after arriving from New Jersey.
Samar had his early schooling in Banaras where he got interested in learning the tabla. But his father would not encourage him to go
into music.  Samar used a colorful expression to describe how his father reacted when he told his dad he wanted to pursue music.
Later, his interest in classical music blossomed when he went to college in Kolkata. During his tumultuous college days in the 1960s, with the Naxalbari Movement in full swing in Bengal, Samar managed to attend all-night concerts of artistes of great repute.  His interest in cultivating a  keen interest in music and musicians was greatly reinforced.
Samar even dabbled in western music in college. In 1975, he married Mala — it was an arranged marriage. Mala had her training in Rabindra Sangeet and Hindustani classical music. So it was natural both the Sahas are passionate about music.
The Sahas' move to the US in the early 1970s directly as green-card holders was quite accidental.  They settled down in New Jersey.  While in New Jersey Samar became part of the Bengali Cultural Organization  Kallol.
At Kallol he introduced Hindustani cassical music concerts despite the apprehension of some members that it might not go well with their members. With the concerts well-liked by the members, Samar got first-hand experience in organizing music recitals and dealing with artistes.
The Sahas also came in contact with the tabla maestro Pandit Samir Chatterjee and his organization Chhandayan of New York.  Chhandayan has been active with Indian musicians of every genus, innovating and experimenting with fusion, and tabla orchestra with vocalists. Chhandayan selects and invites artistes to perform around the USA.
With their long-standing association with Samir Chatterjee, Samar and Mala snap up opportunities to invite artistes and host them at their home. Asish and Nidrita Sinha of Cheswick are always there playing key roles in the organizing details.
Hosting artistes is not a simple job. By nature, artistes can be temperamental and picky. Receiving them at the airport, driving them around and dropping them back is a chore.  But catering to their minute needs in food preferences and other needs is a different type of challenge. Samar and Mala have mastered the art of dealing with artistes.
Sometimes for a well-known artist the venue is moved to a formal auditorium, like the last concert this May of vocalist Ashwini Bhide Deshpande at the Frick's Fine Arts' Auditorium in Oakland. Many instrumentalists and vocalists, enjoying the Sahas' hospitality at their home, have given their best recitals. Last year we enjoyed the Sarod player Sri Atish Mukhopadhyay accompanied on the tabla by Sri Tejas Tope. The other notable program was the nearly 3 hour memorable solo shahnai recital by Ustad Hasan Haide. Pt. Samir Chatterjee accompanied him on the tabla. Reviews of several of these recitals have appeared in the Patrika written by     knowledgeable music enthusiasts living among us.
The Sahas have a lovely home in Irwin with a great room that can accommodate a small audience of up to fifty music enthusiasts to enjoy live performances. Samar has equipped his beautifully decorated home with a good sound system. Listening to the music is not the only treat at his place. The ambiance of a private house concert offers wonderful opportunities to interact with the artistes. The artistes too have said during the post-recital interactions that the sterile and formal atmosphere in large concert halls is no match for the instantaneous rapport they make with their audience sitting only feet away from them in house concerts.  The concert is always followed by a scrumptious dinner, usually organized in potluck fashion with many in the audience bringing home-cooked delicacies.
The Sahas take great pride in hosting talented, young artistes, who give their very best in trying to establish themselves in the field.  Many of them will never forget the Sahas' patronage. The Sahas also encourage our own home-grown talents like vocalist young Ayan Sinha. Here are some of the artistes who have performed at the Sahas' place:
Padma Bhushan Pt. Buddhadeb Dasgupta (Sarod) opened the house concert with his blessings for success.  His son, Anirban Dasgupta, another Sarod player played with him. August, 2012.
Flutist Steve Gorn — April, 2013
Classical Vocalist Mitali Bhowmik — May, 2014
Thumri, Dadra and Ghazals by Rita Ganguly and Sitarist Amie Maciszewski — October, 2014
Classical Vocalist Samarth Nagarkar — May 2015
Thumri, Dadra and Durga Vandana Singer Rajyasree Ghosh — October, 2015
Sitarist Abhik Mukherji and Flutist Jay Gandhi Jugalbandi — April 2016 (during the wedding reception of the Sahas' daughter, Elena)
Classical Vocalist Sanjoy Banerjee — April, 2017
Shehnai Haidar Hassan – son of Shehnai Nawaz Late Ut. Ali Ahmed Hussain Khan -— May 2017
Sarodist  Atish Mukhopadhyay — October 2017
Classical Vocalist Ashwini Bhide — May 20, 2018
Without letting anybody know (until now), very often, the Sahas, like true patrons of arts, have contributed from their own resources, a lion's share of the total expenses for many of these concerts. This is in addition to hosting the artistes in their home for several days before and after the recital.
That they are Hindustani music enthusiasts is well-known.  Further, without any institutional support here, and on their own strength, they are also warm hosts, efficient organizers, and generous patrons of the art and the artistes, all rolled into one.  The Sahas are unique in this respect.   ♣