By Nandini Mandal
Artistic Director, Nandanik School of Dances
On November 30 at 9 AM history was made for the Indian community in Pittsburgh. For the first time, the organizers of the annual WPXI Holiday Parade invited us for the annual outside gala. Having seen our performance at Market Square on 13th and 27th September as part of Welcome Pittsburgh, they invited us to participate in the Thanksgiving weekend in 2019.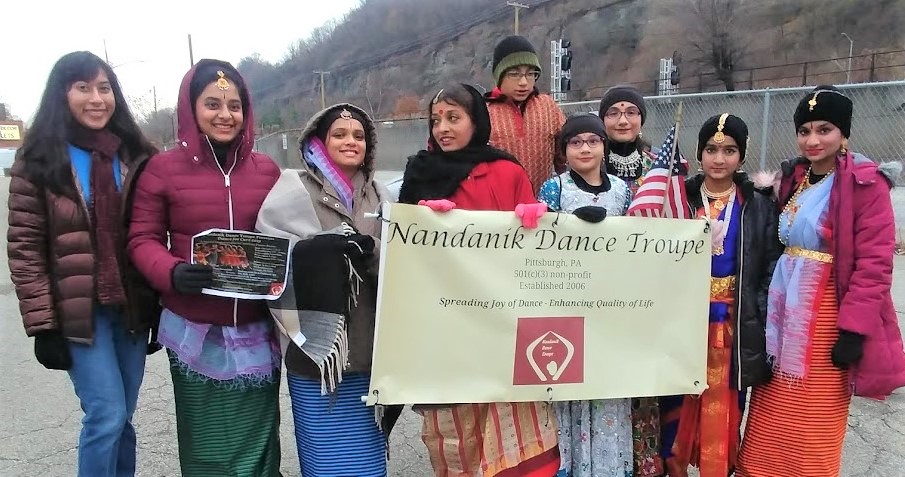 Excited as we all were, we were also worried about the weather. Our Indian dance costumes are meant for the tropical and subtropical weather, so it was a challenge to design our costumes for the outside event in the cold weather. We decided to gear up in outdoor sport wear underneath our Bharatanatyam, Koli, Garba, and Manipuri costumes!
Sixteen dancers participated along with their enthusiastic parents. We gathered at 7:00 am in Strip District braving the subfreezing temperatures. The wind chill was 20 degrees and the mercury was at 30 F, but nothing could dampen our spirits. There were drummers, marching bands, fire brigade, canine troops, and other organizations of this wonderful city and Allegheny County.
It was a two-mile walk. A crowd had gathered, braving the cold and cheering us along the way. Little children from among the bystanders danced along with us. The fun part was to see ourselves on the big screen and the reporters talking about us on live TV!
For the first time, India was part of the annual gala. We were delighted that the minority Indian-American community was appreciated by all. We contributed in our own way to become part of the American mainstream.
Anushka Sharma, a seventh grader from Upper Saint Clair, said this on her participation: "It was an amazing to perform and share different Indian classical dances with people from my home city. I was happy to get this experience, because we don't always have a chance to share our Indian culture with people from other cultures."
Aditi Thakur, a tenth grader also from the same area said, "The experience overall was fun, albeit a bit cold. It was amazing that we were performing there in the first place. So many people cheered us on, and I felt welcome while performing something from my heritage. In true thanksgiving spirit, I felt connected to the Pittsburgh community and I'm grateful that I got to share my culture with my community."
Please mark your calendars for our spring production. VILAYA — The Confluence Festival of Indian classical dances on April 18 and 19 at Andrew Carnegie Free Library & Music Hall at Carnegie. This will be the third year of the festivities as we continue in our mission to promote the rich heritage of Indian art in the greater Pittsburgh region. END 