By Shambhavi Desai, Bridgeville, PA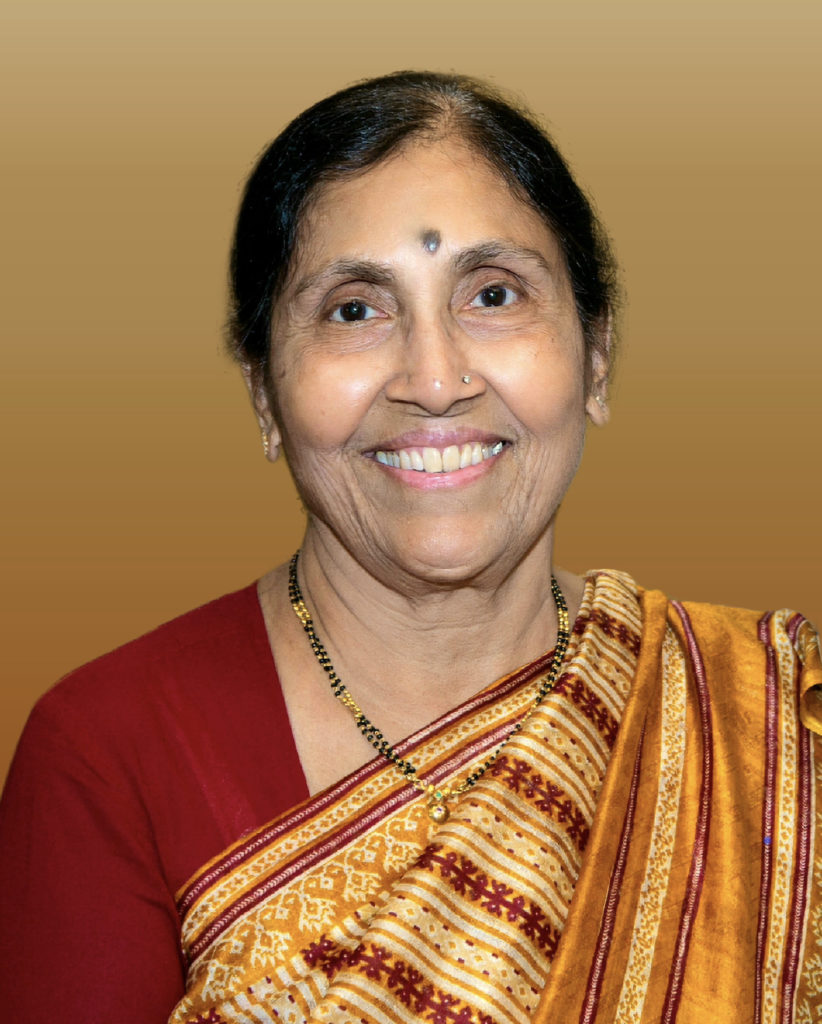 Manjula V. Germanwala, a resident of Pittsburgh for over fifty years and a well-known name in the community, died on December 17, 2022, with her loving husband, Vasant, at her side. Manju-ben, as many of us called her, was born on January 29, 1945 in Worli, Mumbai to Savita and Mulchand Kansara in an affluent family. Youngest among all her siblings, she was bold, intelligent, caring, spiritual and gracious inside out. She did her schooling and started her college education in Mumbai. Manju-ben was engaged to Vasant Germanwala in 1963 and they were married in 1967 after coming to the US. They were married for 55 years.
While raising her family here, Manju-ben, with full support from her husband, graduated from Point Park College with a degree in microbiology. Her passion for reading and books led her to work at B. Dalton Booksellers at the Parkway Center Mall for eighteen years, where she became the manager of the store. Later, she worked as an administrative assistant at the Greentree Medical Associates for seven years before retiring in 2006.
Manju-ben was active in several organizations: a devout member of the Hindu Jain Temple and the Chinmaya Mission Pittsburgh, a volunteer at the Alliance for Humanitarian Initiatives, Nonviolence, and Spiritual Advancement (AHINSA), and at the Sai Family of Pittsburgh.
An exemplary leader, community activist, and a committed volunteer, she (with her husband Vasant) gave time for over forty years to several organizations including Meals on Wheels (www.mealsonwheelsamerica.org), delivering meals to senior citizens, who often live alone. She was also at the Kiwanis Club of Pittsburgh, and Beginning with Books, an organization of experts dedicated to nurture literacy among pre-school children, running workshops on early literacy topics to parents, teachers, and caregivers.
Her husband Vasant lovingly recalls, "She would always try her best to keep a positive attitude even in the most adverse situations." Manju-ben's passion was music. I vividly remember her singing with great zeal, not only bhajans but also an old Hindi movie classic, Afsana Likh Rahi Hun…, as the senior most contestant at Tarana, a music event organized jointly by the Gujarati Samaj of Greater Pittsburgh and the Maharashtra Mandal of Pittsburgh in 2007.
Manjuben is survived by her husband, Vasant Germanwala; her older son, Samir, daughter-in-law, Gana, and their children, Arya and Alec; and her younger son, Anand, daughter-in-law, Arpita, and their children Atasi and Anika. Her Hindu cremation was at the Beinhauer Funeral Home on Wednesday, December 21, 2022, with Pandit Sureshchandra Joshi helping her family with the cremation rites. Her friends will always remember Manju-ben as the selfless person that she truly was, for all the volunteer work she did for the community and her infectious smile with a twinkle in her eye. ∎