India's popular print media, particularly the English media, often stereotypes Indian women as ones who are voiceless and cowed by tradition. In these narratives, profiles of strong Indian women who often prefer to live in obscurity are rarely presented. I am in no way refuting that many Indian women struggle in their traditional roles. However, for those of us raised in India, we have all seen traditional women rooted in their families, strong in spirit and fountainheads of courage pulling their families out of rough patches in life. Often, they are respected in their communities for their grit and strength.
In the news late last year in UK was inspiring stories about two remarkable Indian women whose life trajectory just knocked me over. Both immigrants to the UK, minimally educated in the formal sense, but wise, strong-willed and rooted in their values, they changed the course of their lives and left their imprints on the fabric of Indian immigrants in the UK.
Here are profiles of these Indian women who struggled and succeeded against heavy odds in unfamiliar places, even as they retained their cultural identities.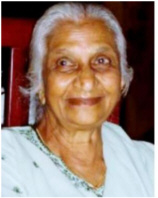 One was Shanta Gaury Pathak, cofounder of the biggest Asianpackaged food company in Britain with the Patak brand name; and the other was Jayaben Desai, inspirational leader of the Grunwick strike who fought relentlessly for respect for Indian immigrant workers from Africa, mostly women. Both died towards the end of 2010 and their obits from UK print media is the source of this article.
Shanta Gaury Pathak, the UK's Curry Queen as the UK media called her, was born in Gujarat, India, moved to Kenya, and later to the UK, after the Kenyan uprising against Indians in the 1950s. She arrived with six children and five British pounds and speaking very little English.
Mortified by the idea of her husband Laxmishanker working as a drain cleaner, she started bottling and packing pickles, spices, and curries at her kitchen table. The recipes were her own, perfected through generations, rooted in her Gujarati cuisine. With her talent for cooking and her husband's business acumen, they soon started a small shop. When 50,000 Asians arrived in UK after Uganda's Idi Amin expelled them, her company, Patak's, bid on a contract to supply food to the refugee camps. Later, as the refugee community settled down, and the Indian curries went mainstream in UK, Patak's was employing over 500 people in their processing plant. Her bottled spices, curry paste, and pickles dominated the UK and European and the US market. She was the one who named the company Patak — an easier and simpler version of her own family name Pathak. After recovering from near bankruptcies twice because of business decisions, when she sold her company, her brand was worth 105 million British pounds. A devout Hindu and a traditional Gujarati, she was also active in many charitable works.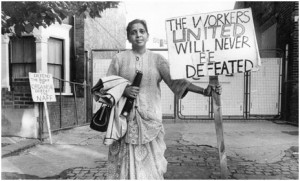 The other was Jayaben Desai. On her death, The Guardian wrote,"…She defied stereotyping all her life." Also born in Gujarat, she wed Suryakant and settled in Tanzania, where he was a tyre factory manager, used to a comfortable lifestyle. But when they were expelled from Tanzania on its independence, she arrived in the UK, penniless.
Her husband worked as an unskilled laborer and she took a job as a seamstress in a sweatshop. Later she went to work for an Anglo-Indian-owned mail-order film processing plant in London. Angry at the low pay and miserable working conditions for a group of immigrant women, she led a walkout of the company in a strike.
The 4'10″ Jayaben remonstrated with her 6'-plus manager, "What you are running is not a factory — it is a zoo. But in a zoo there are many types of animals. Some are monkeys that dance on your fingertips. Others are lions who can bite your head off. We are those lions, Mr. Manager."
The strike dragged on and they were arrested on Women's Support Day and her cause got the nation's outrage, eventually getting them union recognition. Even though her cause did not win in court, her efforts led to better wages and working conditions for workers. She told the final meeting, "We have shown that workers like us new to these shores will never accept being treated without dignity or respect. We have shown that white workers will support us."
Many of us have encountered Shanta Gaury Pathaks and Jayaben Desais in our families and communities. These family matriarchs are proof that feminism is not a foreign import to India. When circumstances demand, they rise to the occasion, despite the burden of tradition and lack of formal schooling, forging new paths for family, community and society.