Well-liked Neurologist, Founding Member of AAPI and the Pittsburgh Sikh Gurudwara
Dr. Sarjit Singh, a long-time resident of Weirton, WV, passed away peacefully at his home on Thursday, December 22, 2016. He was 77. The Greater Pittsburgh Area has lost one of its outstanding members.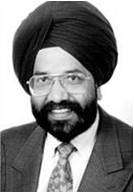 Born in Tanda, Hoshiarpur district in Punjab, India, Dr. Singh obtained his medical degree from Glancy Medical College, Amritsar, Punjab. He came to the United States in 1969 with his wife, Dr. Ranjeet Singh, now a retired pathologist. He trained in neurology in Buffalo, New York, and completed a clinical fellowship at Harvard University.  In 1975, the Singhs settled down in Weirton.
Dr. Singh was an assistant clinical professor of neurology at the University of Pittsburgh Medical Center and the Medical College of Pennsylvania. Dr. Singh actively practiced neurology up to the time of his death. He authored numerous research papers in neurology. His patients liked him for his clinical skills, compassion, personal attention, and cheerful disposition.
Dr. Singh was a founding member of AAPI, the American Association of Physicians of Indian Origin, where he also served as president in 1991. During his tenure, Dr. Singh, with his colleagues, established three charitable medical dispensaries in India, serving thousands of needy patients. He was also involved in forming the Amritsar Medical and Dental Alumni Association of North America.
In 1992 Dr. Singh was appointed to the West Virginia Board of Medicine which licenses and governs doctors throughout the state. He later served as the Board's president in 1998. In 1991, the Governor of West Virginia recognized Dr. Singh as one of the Most Distinguished West Virginians, one of the state's highest honors. He also served as Chairman of the Board of Trustees of the Urban Health Alliance, representing ethnic/minority physicians to aid the less fortunate in their healthcare needs.
Dr. Singh was one of the founding members of Tri-State Sikh Gurudwara in Monroeville PA, completed in 1985, for serving the spiritual and cultural needs of Sikhs in the Tri-State area.
He was also active in the Democratic Party at the state and national level, and was appointed to the Board of Trustees of the National Democratic Committee in 1992.  He was active in the Weirton Rotary Club, donating generously for the scholarship funds, and hosting many exchange students. The City of Weirton inducted him into the Weirton Hall of Fame.
Singh was an avid tennis player and loved playing golf with his friends and was a member of the Williams Country Club in Weirton.
He had a great sense of humor that came out even when he was seriously ill. He advised and rewarded people who quit smoking. I was one of the many recipients of $100 from him when I quit smoking.
Dr. Singh is survived by his wife, Ranjeet; his son Satbir, a urologist and his daughter-in-law, Shalu, a neurologist; and grandchildren, Sheraj and Simreen.
Private cremation services following the Sikh rites were held for Dr. Singh on Saturday, December 24, 2016 in Dover, Ohio. In the memorial service held later at the Sikh Gurudwara in Monroeville on January 7, 2017, a large number of his family members, friends and associates from near and far reminisced about their association with Dr. Singh. The common themes in the gathering were his determination, vision, kindness, caring, readiness to help others, and his sense of humor.
–  By Juginder Luthra, Weriton, WV  ♣