A Well-liked Psychiatrist
S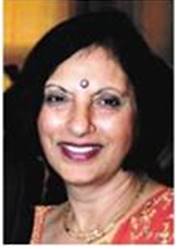 uman Ahuja, a retired psychiatrist from the V. A. Medical Center and a longtime resident of Pittsburgh, died on February 1, 2017.
She was born on January 17, 1947 in Chiniot, Punjab (in Pakistan today). She was the youngest in a family of six, of four brothers and two sisters.
She had her schooling in Delhi and earned her medical degree from Gauhati Medical College in Assam. She met her husband Subash in New Delhi in 1974, married and joined him in New York that same year. After finishing their residencies in New York — she in psychiatry and he in pathology — they moved to Pittsburgh in 1977. She joined the V.A. Medical Center as a clinical psychiatrist, where she worked for over thirty years.
They raised two lovely children, Rajiv, born in Brooklyn, N.Y. and Nina, born in Pittsburgh, PA. She was grandma "Bima" to two adorable grandchildren, Riaan, 5 and Rayna Lakshmi, 1. With her two children settled in their careers, Rajiv, a lawyer, in practice in the field of Health Care Management, and Nina, a physician, pursuing a fellowship in Gastroenterology, and her own successful career in the field of Psychiatry, she was happy and content with her life.
She was a very caring person, always helping others. She volunteered in the soup kitchens and was on the Humanitarian Committee at Hindu Jain Temple. It was not money or fame that she sought, but a loving family and close friends she yearned for. She was successful in her goals.
She loved dancing, cooking and entertaining, enjoyed music and listening to soothing Bhajans, and Ghazals & Shayries (Hindi/Urdu poetry recitations).
Although, she was very conscious of her health and practiced daily yoga and meditation, she developed an autoimmune liver disorder towards the later part of her life. With her deep faith in God, she always maintained a cheerful and positive outlook.
Suman leaves behind Subash, her husband of 43 years, two children, two grandchildren, and three siblings in India. She was cremated with Hindu Vedic rites on February 4, 2017 in Pittsburgh.
— By Praful Desai, Greensburg, PA  ♣