Anchor to Her Husband, Entrepreneur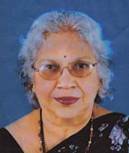 Vimala Nayak, a long-time resident here and wife of Dr. Narayan Nayak, died on June 9, 2014 in her hometown of Karkala, near Mangalore, Karnataka, India, after a seven-year bout with multiple myeloma. This is a type of cancer affecting the bone marrow for which there is no cure.
She was born in 1947 in the Kukkundoor Kamath family renowned for their philanthropy and commitment to elementary and secondary education even as early as the late 19th century.  She continued this tradition in a small way by starting midday meals for 200 school children in her home town, which now has grown to feed over 2000 kids.
In 1966, she married Dr. Narayan Nayak, also from her home-town, who was in the Indian military serving in Ladakh. Nayak's family was in the retail trade in saris. Dr. Nayak came to the US in 1970 because of the shortage of medical professionals in the US, starting his residency at the McKeesport Hospital.
Vimala joined her husband a year later in 1971 with their three kids — Vidya, Narasimha, and Suri. She found her hands full in the new unfamiliar place, raising children with very few Indians here then. As Dr. Nayak set up his practice through the rigors of his neurosurgery internship, board certification, and private practice, Vimala was the sheet anchor for her husband and family well into the 1990s.
Later when Nayak practiced in Johnstown, PA, Vimala stayed back in Pittsburgh, volunteering at the S.V. Temple in Penn Hills, later becoming a member of its governing bodies, and its Treasurer.
With her kids leaving home, she had plenty of time on her hands. Instead of living in the comforts of her suburban life, Vimala, with support from her husband, ventured into a small retail business of selling saris imported from India with help from their family contacts back in India. She ran the business through her illness.
Kanaka Prabhu, Vimala's long-time associate, said, "Vimala, known for her pleasant disposition, was well-liked by her friends and clients.  She was known for her honesty and integrity."
Though she lived in relative comfort in American suburbia on one level, she stoically endured with great dignity the heartaches life threw  her way.
Her son Narasimha performed the Hindu cremation rites for Vimala at Karkala, Karnataka, India. Vimala leaves behind her grief-stricken husband Narayan Nayak, now retired, of  Pittsburgh; Vidya, her daughter; Louis Craig, her son-in-law; Narasimha, her son; her two grandchildren Louie Jr. and Maya. She also leaves behind a large number of friends among Indian-Americans, and also in the medical fraternity by association through her husband.  She was a great supporter of the Patrika.     —  By Kollengode S Venkataraman     