By Kollengode S Venkataraman
India's ambassador to the US, Ms. Meera Shankar, in her address to a gathering organized by the World Affairs Council of Pittsburgh covered many topics her diverse audience of US business executives, Indian entrepreneurs, academics, and Indian-Americans wanted to hear.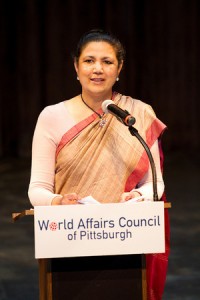 Addressing nearly 150 people on Thursday, April 28 at the New Hazlett theater in North Side, Shankar said, after the improved Indo-US relationships during the past several administrations in US and India, President Obama's and Prime Minister Manmohan Singh's state visits are new milestones.
On terrorism, Shankar said India and US, both constitutional pluralistic democracies, are vulnerable — Indian more so than the US given the history of the subcontinent. Naturally, both US and India, she said, are committed to counter terrorism in Pakistan and Afghanistan. India wants a stable and prosperous Afghanistan, she said, simply because an unstable Afghanistan, the corridor between the oil and gas rich Central Asia and the energy hungry India, brings problems for the whole region. Another factor is Afghanistan's untapped mineral wealth. For the same reason, Pakistan also wants control the region. India is working with Afghanistan on farming, women's empowerment, and education an other areas.
On India's economy, she said, India's growth rate even during the recent recession was a respectable 6%, which has bounced back to over 8% now. It is one of the high growth rates among nations. India's growth, driven as much by internal demands, smoothens the impact of the wide swings in global economy on India. So, she sees opportunities for cooperation in areas of mutual interest in trade and technologies in pharmaceuticals, steel, and IT, defense- and security-related areas.
Even though in terms of absolute numbers trade with India does not rank high in the US foreign trade, there are great opportunities for growth. US exports to India rose by nearly 300% over the last decade. (Note: For 2010, US exports to India is $19 billion, imports from India is $29 billion. US export to China  is in a very different orbit: Export to China $90 billion, import from China is $360 billion).
While US is now the source for the largest overseas direct investments in India, Indian businesses, too, have started investing in US in energy and other sectors. In spite of the spectacular growth stats, Shankar candidly acknowledged the widespread poverty in India, and the benefits of growth not percolating to poor people, which, we should say, has the potential for triggering social unrest. 
While 60% of India's population depends on farming, farming accounts for only 20% of India's GDP.  India, she said, still remembers the acute food shortage of the 1960s, which lead to the first Green Revolution with  help from American agronomists. Given the history of famine in the Indian subcontinent and the severe malnutrition among children from low-income and poor families even today, it was not surprising that Shankar said, "Food security is important to India's national security, and this reflects in Indo-US relationships." 
On India's energy needs, while conceding the impact of fossil fuel on climate change, she said both India and the US depend on fossil fuel to a great extent. She said India is committed to clean and renewable technology for meeting India's energy needs. While citing the example of two nuclear power plants to be built in India with US technology, Shankar said, rather incredulously, that nuclear energy is environmentally friendly.
While Indo-US defense cooperation is strong as seen by the increasing defense purchases from the US, Shankar said, India wants to diversify its defense procurements.
After the formal address, Shankar fielded several questions from the audience covering a whole range of issues.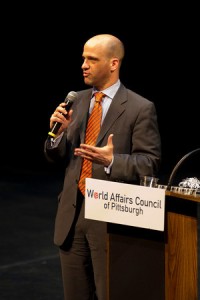 David Murdoch, Managing Director, and Stevel Sokol, President of WAC of Pittsburgh (shown in the adjacent picture intoducing Ambassador Shankar)Â also addressed the gathering. Sunil Wadhwani introduced the ambassador to the audience. Dennis Lobonski of Allegheny conference on Community Development also briefly talked about foreign direct investment opportunities in Pittsburgh.
During her visit Ambassador Shankar also met with Governor Tom Corbett and County Executive Dan Onorato.  She visited Carnegie Mellon University and the University of Pittsburgh and met with their officials.
World Affairs Council of Pittsburgh with support from the Allegheny Conference on Community Development and Pittsburgh Regional Alliance organized the event. Aquatech, BNY Mellon, Bombardier, PNC Hawthorn, Koppers, Heinz, Westinghouse, and UPMC sponsored the event, among other companies having business interest in India.
Next day Lalit Chordia of Thar Technologies hosted a private reception to the ambassador at Phipps Conservatory, where its Assistant Curator Ben Dunigan told the ambassador and the invited guests that they are working on an ambitious project titled Tropical Forest India. This will feature live exhibition on India's (and Asia's) centuries old technique of cultivating several commercial crops in the same physical space, which modern agronomy calls "intercropping." See details on page 21.  n