by Sandhya Krishnan        e-mail:   sandhyakrishnan@gmail.com.
Sandhya Krishnan works at the corporate office of the famous local grocery chain, often moonlighting as the founder-director of  Blue Mango – a multi-ethnic theatre group based in Pittsburgh. Having done two plays in the last two years, she is currently working on the third. Sandhya is an alumnus of BITS Pilani and XLRI Jamshedpur and lives with her husband in the beautiful Squirrel Hill neighborhood.  
Getting a diverse, colorful and well-connected crowd together is no easy feat and Executive Director Harish Saluja seems to pull it off effortlessly every single time. On May 6 2011, The Silk Screen Festival team hosted their Annual gala at the Omni William Penn hotel and an estimated 300 patrons showed up in their ethnic best.
Drawing attention were Kathy and Sean Engel, attired in Indian traditional wear. Sean was seen sporting a bridegroom look from Udaipur, complete with a glittering turban, while Kathy paired her turquoise Jaipur saree with jewelry from Delhi. "We love Asian culture" said Kathy, adding that they plan to celebrate their anniversary by catching some of the movies at the festival.
The selection of food was diverse too, from Indian fare from Taj Mahal and Mediterranean from Alladin's to Thai from my favorite place, Thai Cuisine. Several lovely pieces of origami made up the décor while a length of the room was lined with auction items. Inspired, I followed the kimono route to meet Kumiko Lancet and her team. Every year they are a part of the festival and this time they were the prelude to the main event. Their band of singers and musicians entertained the crowd with traditional Japanese songs from 7.30-8.00 pm.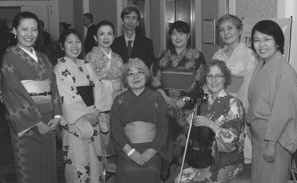 The entertainment was interesting and new, though from what I heard some pieces made a repeat appearance. As excited I was to see the myriad performances, I thought the artistes deserved more attention, either by the layout of the room or by having the audience seated.
I love that Silk Screen is a part of our art scenario in Pittsburgh. The movies are always exciting, the marketing is great and the festival is one the city looks forward to every spring. And the gala, besides being a well-attended gorgeous evening, stood testimony to the fact that success comes in all colors!
Editor's note: Nominated by Katie Jones of Silk Screen, Harish Saluja was chosen by UPMC Center for Inclusion as the Dignity and Respect Champion for May 2011 for fostering understanding across lines of race, ethnicity, religion, age, and region through Silk Screen.  n