By Dolly Luthra, Weirton, WV (Published in July 2009)
Editor's Note: Dolly Luthra, a long-time resident in Weirton, WV, talked to Saroj Bahl in April on what inspired her to start the India Independence Day celebrations, now an annual event in Pittsburgh. In an engaging conversation with Luthra, Bahl explains how she re-discovered herself in her activities and accomplishments in Pittsburgh. Luthra, a dentist, came to the US in 1975.
In the Pittsburgh Metro area, India's Independence Day Celebration is synonymous with Saroj Bahl. Started in 1997 during the 50th Anniversary of India's independence and held annually in August in the lobby of the Cathedral of Learning, this function is for all Indians in the tri-state area.
Born in 1943 in Nairobi, Kenya, Saroj is the child of immigrant parents from India. She grew up as a British subject in a traditional Indian family with weekend trips to the temple for Havan. She attended the Arya Samaj School. Nairobi was segregated with separate residential areas and schools for Whites, Blacks and Browns.
Saroj recalled, "For college education I went to Chandigarh in 1960. My first contact with India is so dear to me that even today a lump rises in my throat thinking about that day. I returned to Kenya in 1963, the year Kenya got independence from Britain. In Nairobi, I taught English, literature and history in Senior Cambridge School. In 1964 I got married to the newly minted doctor Mohinder Bahl who had just returned from Pune, India."
In Kenya, Saroj and Mohinder were blessed with three sons —Ashish, Monish and Sachin. They were set to have a great life in Nairobi.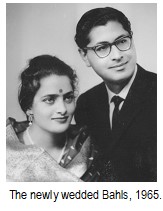 But life is never static. External events change people's lives forever. Exodus of Indians from Idi Amin' Uganda in 1972 prompted Ashok, Saroj's brother in Pittsburgh then, to tell Mohinder and Saroj to leave Kenya voluntarily before they were forced out. It was prophetic. The government of Kenya announced that all jobs would be Africanized.
In 1972 Saroj and Mohinder with three children landed in Pittsburgh. Mala, their fourth child, traveled free and was born in Pittsburgh. The Bahls never re-located and Pittsburgh became their home.
"In the early 70s, Pittsburgh had a small Indian community," Saroj recalls. "There were no temples or organizations. We were like a small family meeting in homes around potluck meals. An Indian was just happy to see another Indian without regard to the region or religion. Soon there were talks about a Center and Temple for all Indians. Twelve couples including us made down payment for purchasing a church with attached land, at present location of the Hindu-Jain Temple in Monroeville."
"I vividly remember," She continued, "the first logo encompassed all religions including Hindus, Sikhs, Jains, Muslims and Christians."
The influx of physicians, information technology and other jobs resulted in ballooning of the Indian Diaspora. The increased numbers of various groups led to their separation from the main body. This resulted in the formation of S.V.Temple, the Sikh Gurudwara and several other religious and regional organizations. The Jains and many Hindus joined hands and built the Hindu-Jain Temple.
Having grown up in the segregated Nairobi, and observing divisions among Indian immigrants in Pittsburgh, Saroj wanted a yet-to-be born platform where people would identify themselves as Indian first and only then have a label of a region or religion, showcasing our unity in diversity." Saroj animatedly says, "Involving children in such an organization would give them a sense of pride in their roots."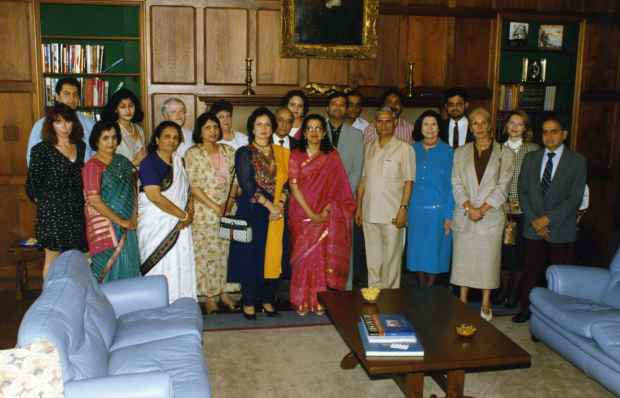 Around the same time, Chandrika Rajgopal, Deepak Wadhwani and Anu R Reddy, encouraged by E. Maxine Bruhns of Pitt's Committee on Nationality Rooms, were working to create an Indian Nationality Room in the Cathedral of Learning. Their motivation was Indiaâ's 4000-year unbroken tradition of pursuing excellence in learning.
Knowing Saroj's commitment and work ethic at the Hindu-Jain Temple, she was invited to become part of the Indian Nationality Room committee. She joined enthusiastically.
Through several fundraisers, generous support from the community and help from the dot-com boom, the committee raised $500,000 in record time. The Indian Nationality Room was dedicated on January 9, 2000. The project re-created inside the Cathedral of Learning a room depicting the ancient (5th century AD) learning center in Nalanda, established a scholarship program to send one deserving student to India every summer, and holds an annual essay competition.
Finally it was time for Saroj to start the annual Indian Independence Day Celebration to bring all Indians in Pittsburgh under one banner. Rashmi Ravindra, a long-time friend, active community member and supporter of Saroj from Day-1 says "Independence Day Celebration was totally Saroj's idea."
Saroj recalls, "It had a modest start with fewer than 100 people in attendance. Over the years, with participation from all Indian organizations and individuals, the annual event now attracts over 1000 people. In earlier years it was hard to find participants, but now the function has no shortage of excellent and enthusiastic performers. The dances and songs match the diverse motifs of independent India."
"Are you happy with the format of the function?" I inquired.
Without any hesitation and with a chuckle she said, "I love the Mela (Carnival)-like atmosphere — diverse programs, folk music and dances, classical dances, speeches, some people watching the show, some eating, shopping and some doing their usual  gup shup with intermittent loud laughter at the crack of old jokes!!"
The non-air-conditioned Cathedral in the sweltering August summer with less than ideal acoustics doesn't seem to bother the participants or the audience. Saroj and her committee continue to look for other locations, but without success so far.
Constant improvements in the celebration led to an outdoor parade around the Cathedral of Learning. If rain is a good omen, it appropriately blessed the first parade in 2007, which consequently was held inside the Cathedral. Last year the parade on the streets surrounding the cathedral was a huge success with over 450 people marching to the beat of Nadaswaram and Tavil by visiting artists at the S V Temple.
I asked, "How do you manage to do all these?"
She laughed and said "I have full support from Mohinder and my children. But I just cannot complain in front of them that I am tired. Saroj also thanks all the Pittsburgh Indian organizations, her ten hard working committee members and the community who have brought the event to this level. All the accounts are handled by the University.
She acknowledged a few frustrations but, "they were nothing compared to the support I received from the community. I will do it all over again. I have enjoyed every minute of it and I have become a better person from this experience."
Saroj is also actively involved with Silk Screen Film Festival, the Pittsburgh's  first India I-Day Celebrations in 1997. Bob O'Connor of Pittsburgh City Council was the main speaker.      
Hindu-Jain Temple, and the National Association of Women Business Owners, which selected her as one of the Make The Connection Award Honoree in April 2009.
Her future dream is to see the Indian Independence Parade to take the dimensions of Irish or Greek parades held in downtown Pittsburgh with thousands in attendance. "I am in no rush. It will happen in its own time. I don't know when, but that day will arrive for sure. Our youngsters are smart and well trained in organizational skills, business management, speaking abilities, and love for India."
She continued: "For now, I will continue to give my best to the Independence Day Celebration. At the appropriate time, I will happily pass on the baton." And she did it in the true Indian Vedantic style with detachment, handing over the baton in 2016 to Rashmi Ravindra and her team.
The small fire that Saroj lit has become a bright flame, and I am sure it will glow even brighter forever.   — ENDÂ