By Kollengode S Venkataraman (Published in July 2009)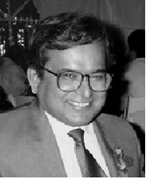 Dr. Raj Gopal, who, in early 1970s envisioned a temple for all Hindus in Pittsburgh when the very idea of Hindu immigrants building a temple in the US with their own resources was considered a fantasy, died on March 16 in Coimbatore, India. He died suddenly while working on his project for helping tribal people near Ooty. He lived in Pittsburgh in the 1960s and 70s.
Gopal was born in Coimbatore to a middle class family. After his BE degree in PSG College of Engineering, he came to the US in 1955 and earned his PhD from RPI in electrical engineering in 1961. Returning to India and getting frustrated, he came back to join Westinghouse's technology center in Churchill, where his work was filed for many patents.
In mid-1970s the euphoria among Indian immigrants for building an inclusive temple for all Hindus, and Sikhs and Jains evaporated soon after groundbreaking with disagreements over the scope of the project and the nuts & bolts of running the temple. A few mainstream Americans and several non-Hindu Indians, it is noteworthy, were active in this project.
Raj Gopal and several others coming from southern India broke away to build a temple of their own. This split culminated in building the Sri Venkateswara Temple. Gopal's go-getting dynamism was instrumental in getting the bare temple with only the shrines dedicated for worship in record time in Fall 1976. He, with a group of South Indian volunteer-friends, worked with the Tirupati temple in India, raised funds under trying circumstances, worked with Penn Hills' city hall convincing them for a permit for a Hindu temple, and on many other details.
Dr. Mahendra Mathur, who worked with Raj Gopal for a common temple for all Hindus, said, "Dr. Raj Gopal's tireless efforts brought together the people and funds, and coordinated the construction of an authentic Hindu Temple in the Western Hemisphere for Venkateswara.  His single minded commitment was truly exemplary."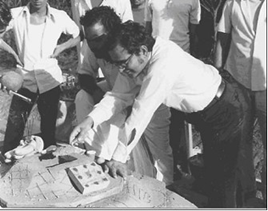 Cecilia and Udaya Shankar Rao who were involved with the temple since the beginning reminisced, "Still vivid in our memory is the day Raj brought in a bus fifteen shilpis who had flown to New York from India in summer 1976. We received them at the Churchill borough building. At that moment, the temple project became a reality for us."
Soon after S.V.Temple's dedication in Fall 1976, the very dynamism of Gopal's leadership style, crucial for completing the temple in record time against many odds, became an issue between him and the South Indian team members who worked with him in building the temple.
This was partly because the nascent S.V.Temple was transitioning into a typical establishment with elections, committees, rules, not to speak of the compulsions of pressure groups and conflicting vested interests common in many Hindu temples in the US. Because of this and other inter-locking reasons, the relationship between Gopal and the governing members of the S.V.Temple irrevocably strained soon after the temple's inauguration in 1976, and the strain sustained in later years.
Gopal was also an ambitious entrepreneur. He saw the potential for Indians in the IT industry a decade before its boom in the 1990s. However, his business ventures did not take off, partly because he was ahead of the time. In recent years, he went back to Coimbatore where he was active in the construction projects of Amrtanandamayi's ashram and in guiding students at the PSG Institute of Management.
G. Manoharan, who worked with Raj Gopal in the early days of the temple, recalled: "Dr.Gopal was a legend of many dimensions. A brilliant student and a successful engineering manager. He conceived and spearheaded a project establishing a traditional Hindu Temple in the US. A visionary entrepreneur and humanitarian. Loving husband and father of three admirable daughters. A role model."
Sarita and Smitha, two of Gopal's three daughters and their mother Rajshri were in Coimbatore for his cremation rites.
Raj Gopal's associates and acquaintances in Pittsburgh earnestly acknowledge his vigor in getting the S.V.Temple built in record time. On this point, even his detractors agree, as it was evident in what was said in a memorial gathering for Raj Gopal at the S.V. Temple in May.
That the temple Gopal was instrumental in building is now a pilgrimage place for Hindus in the US is an acknowledgment for his vision and his single-minded dedication for the project. — END