by Bhanu Pandalai and Premlata Venkataraman
Email: Â ThePatrika@aol.com
With sadness, we record the passing away of  Dr. Parandham Koduri of Monroeville, PA in the early hours on Tuesday, October 11. He passed away after a brief illness. He was 80.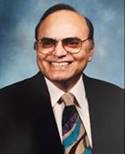 Parandham, as he was known to many, was a friendly and approachable person. He loved being a doctor, and would quickly develop a good rapport with his patients. In 1971, he arrived in Pittsburgh for his residency at the Columbia Hospital, Pittsburgh in Emergency Medicine. After a stint in Minnesota, he came back to East Suburban General Hospital (now Forbes Regional Health) in 1978, as the head of Emergency Medicine.
He was actively involved as a volunteer at the S. V. Temple, serving in many official capacities. At the Temple he was the President of the Executive Committee and later the Secretary of the Board. Most importantly, he was known as a peacemaker among contentious key members of the temple who did not see eye-to-eye on the temple's temporal matters. He was also active in the Rotary Club in Monroeville.
Prema recalls his encouraging words to the articles she wrote in this magazine, teasingly telling her to write more than her hus­band. Bhanu too had very poignant memories of his care and support during her husband's illness.
Parandham was born in Korutla village in Telengana in 1936 and was the first in his family to go to college and then on to medical school. A talented surgeon, the Government of India awarded him a gold medal for his surgical skills. In 1961, he married Tanya, who grew up in Rajamahendravaram (Rajahmundry) in Andhra Pradesh. Parandham had a daughter and two sons.
He was facile in English, Telugu, Hindi and Urdu as well. An eclectic Hyderabadi, he loved Urdu poetry — shayaris, gazals, and nazm. Tanya, his wife, recalls him writing to his father in Urdu!
The funeral services for Parandham were held at the Beinhauer Fu­neral Home on West Liberty Avenue with a large number of Parandham's friends and relatives sharing their grief with the Koduri family. Sunil and Venugopal, Parandham's sons, performed the Vedic Hindu cremation rites with help from Shri Venkatacharyulu and Shri Varadarajan, the priests from the S.V.Temple.
Parandham leaves behind his beloved wife Tanya; daughter Sailaja and family of Pittsburgh PA; first son Venugopal and family of Suffolk, VA; second son Sunil and family of Seattle, WA; and his grandchildren — Vishal, Shi­vani, Natasha, Rohan, Maya and Hans Raj. He also leaves behind a large number of friends in the Pittsburgh metro area.  ♣