By K. S. Venkataraman           e-mail:  ThePatrika@aol.com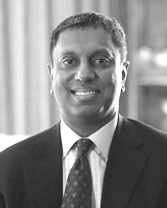 In the 2012 election cycle, D. Raja, the successful Founder/CEO of a Pittsburgh-based IT company and a Republican, lost to Matt Smith (D) for the Pennsylvania State Senate District 37. District 37 is in Allegheny County (except for Peters Twp. in Washington County). See the map of the district. But even in his loss, Raja's accomplishment needs to go on record.
District 37 is affluent. Based the on 2000 Census, the Median Family Income of this district was $62,000/year; for Pennsylvania, it was $50,000; and for Al­legheny County, $48,000. Only four municipalities out of 31 in this district have median family incomes below $50,000. This trend continues even now twelve years later.
The townships with median family income from $158,000 to $64,000 in descending order are Sewick­ley Hts., Edgeworth, Ben Avon Hts., Upper St. Clair, Sewickley Hills, Mt. Lebanon, Osborne, Ohio Twp., Bell Acres, Moon Twp., Aleppo Twp., Ben Avon, South Fayette Twp., and Bethel Park.
The district is also very Repub­lican. Only once since 1969 has a Democrat represented this district. (see the box). Besides, in the last three elections, Republicans won this district by 2 to 1 margin.
So, Raja was a safe candidate for the GOP in a highly Re­publican district — he is well edu­cated (MS from Pitt in EECS and an MBA from CMU); a naturalized Indian immigrant; and a self-driven and self-directed successful entrepreneur. And for the GOP in this time and age, as a non-White "minority" candidate, Raja is a poster-child. In the Republican primary, Raja defeated his GOP opponent who tried to sway voters on Raja's Indian ethnicity. Till very late, no Democrats even sought nomination for this district.
However, in November Raja lost with 55,700 (47%) votes to Matt Smith (D) 65,300 votes (53%). Readers will have many explanations on how Raja, a poster-child GOP candidate on many counts, lost in a very Republican district. However you slice and dice the results, it is necessary to see the results in a broader context.
Of the 250,000 people in the State Senate District 37, 94.8% are White; 2.5% Black, and~1.0% Asian. With Indian-Americans forming less than 1% in the electoral district, it is remarkable that 47% of the voters were willing to give Raja a chance to represent them based on how Raja, a naturalized citizen, not a natural citizen, presented his candidacy.
Just imagine that a naturalized Indian citizen of Iranian, English, or Sri Lankan, or Nepali, or American heritage, seeks elected office into the legislatures in Maharashtra, Tamil Nadu, or West Bengal, or Gujarat. What do you think are his/her chances of even getting the nomination from India's political parties?
For that matter, what are the chances of a Banerji living in Bengaluru for twenty-five years getting the nomination to get elected to Bengaluru's city council? Or a Krishnaswamy getting elected in Kolkata? What are a Luthra's chances for getting elected from, say, Kerala?
No matter how sophisticated, how educated, and how eclectic people are in the aggregate, elections are always decided at the visceral level on how voters feel inside the voting booth.
Further, to the best of my knowledge, Raja's faith was never used in the November campaign against him. In the Republican primary in sum­mer, when his GOP opponent Mark Mustio of Italian heritage used Raja's Indian name and identity to sway voters, the media cried foul. Mustio lost in the primary.
In any electoral process, win, you get all the limelight; and lose, you quickly fade from the public eyes. Naturally, it hurts to lose, and only people of certain temperament are attuned to seek elected office. Raja could have simply rested on the laurels of his entrepreneurial successes and the social prominence that comes with success and wealth. But the gregarious Raja wanted to be expansive. In interacting with voters, Raja viscerally — not academically or intellectually alone — would have understood the social, economic and cultural diversity and identity of people in this region, their aspirations and anxieties. On this point, he is so atypical of Indian-Americans in this region. He is a trailblazer in this regard.
There is an old Tamil verse, which conveys the following: An arrow that just missed to take out a lion is better than the one that pierced the stomach of a jackal. Raja's arrow aimed at the lion, even though he missed it. We congratulate Raja for trying daring things in public life.