By Mona Chabra
e-mail: mona15143@yahoo.com
Note: A native of Pittsburgh, Mona earned her degree in Writing from Edinboro University of Pennsylvania and works as a freelance writer for Pittsburgh Parent Magazine.
When we think of culture many things come to mind. We can taste culture in the sweetness of baklava from the Middle East. We can see culture in the intricate designs of Japanese origami. Culture adds depth to our world and makes it unique. Culture shapes how we think and behave. Culture gives us a sense of belonging and identity.
But what do we do when distance comes between our cultural roots and the place we call home? It's simple… just replant them!
That's exactly what so many ethnic groups have done. Take our own for example! Most families of Indian origin take culture and tradition very seriously. From preparing authentic Indian food to speaking Hindi, Gujarati, Marathi, Bengali, Tamil… … Most families of Indian origin settled in Pittsburgh follow many Indian customs and traditions at home on a daily basis. By doing so, these customs and traditions, key elements of them, anyway, will be preserved from generation to generation.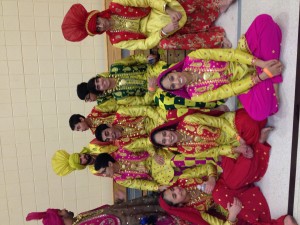 Like so many young people with multicultural backgrounds, good friends Amal Chabra and Sahil Dadoo recognize that it's important for young people to stay connected to their cultural ethnicity so it can be passed on to coming generations. That's why these kids have taken extra steps to hang on to their heritage. And, instead of sitting their cultures out, they've chosen to dance Bhangra, one of India's most happening traditions!
 "Though Bhangra is one of the most operose arts to per­fect, there is nothing I enjoy more. It's not only a lot of fun, but through the music, lyrics, costumes and moves, I learn a great deal about my Indian heritage," says Amal. "My passion to reconnect with my roots has no limits!" Sahil agrees, "I think it's important to for me to stay connected to my culture and traditions because then later on in life, I can pass these traditions down to other people and connect them to the Indian culture."
Bhangra is a buoyant and lively form of expression that will engulf you in its spirit as soon as you experience it. It's a celebration of life and is done with zest, enthusiasm and energy.
Two well-established bhangra teams in Pitts­burgh are First-Class Bhangra (FCB) and (its younger ver­sion) First-Class Bhangra Juniors (FCBJ). Both groups have competed and performed in several venues throughout the US and are available to perform at both public and private events.
FCBJ currently consists of nine team members ranging in ages from fourteen to seventeen. But, according to the team's leader/instructor, Ram Mahalingam, FCBJ plans to expand to enhance its stage presence for performances as well as competitions.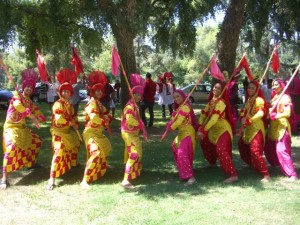 Born and raised in the US, Ram developed his passion for Bhangra at a young age. "I saw Bhangra as a hard dance style that provided me with a challenge, so I decided to give it a try."
A recent graduate of the University of Pittsburgh, Ram has been actively involved in Bhangra for the past eight years. This year marks his fifth year of competitive Bhangra as well as teaching. 'Being a teacher gives you so much joy when watching others and the success that they achieve. I think it's great that the kids take such an avid interest in something that is culturally relevant to them. I do it for that love." Ram says.
Ram also feels privileged that he can help bridge cultural gaps for so many kids just like himself. "I think it's important for generations to get a taste of culture and try to understand why things are culturally important."
Ram has great expectations for FCBJ. "I know when their high school days are up this experience will have shaped them to be a model student and citizen at their colleges. They're great kids and make me proud!"