Reviewer:  Premlata Venkataraman
I said It Too – Chai with Mahendra, a cartoon book by Mahendra Shah, Published by Mahendra Shah, 203 pages.  Copies can be purchased ($20) from www.bookganga.com/eBooks/Books?BookSearchTags=i+said+it+too&BookType=1
Pittsburgh's own Mahendra Shah, known to most readers of this magazine, has compiled several of his cartoons published in various forums, magazines, and dailies into a book "I said it too!"
Like the other world famous cartoon series You Said It by the celebrated Laxman in the Times of India, Mahendra Shah uses his wit and pencil to look at the Indian Diaspora's hyphenated existence in the United States and bring into focus the absurdities such cultural mingling brings about. 
His keen observations encompass our homes life, our parties and social interactions, our temple committees, and our growing distance from our children raised in this culture.  Not one aspect of our lives – including our stinginess — has been left undisturbed by Mahendra Shah's sharp mind.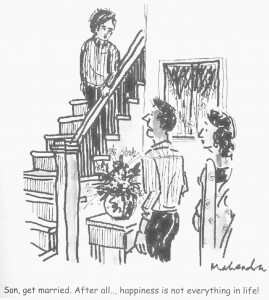 Shah's cartoons offer as much commentary about our life here as those written in scholarly journals and opinion pages — except he does it with a few strokes and a pithy sentence that gently poke fun at our communities foibles and conflicted existence. His cartoons describe the pros and cons of attending events; high price of tickets; the larger effort of cooking halwa for 100 guests; the annoyance of attending multiple weddings for the same couple based on religious-cultural-regional differences. He also mocks at religious fanaticism and doctor/patient interactions, and editors (with rare exceptions) who treat him badly.
That both this book and the Vivaha Samskara reviewed elsewhere in this issue have been self-published by the authors is a sad reflection of ourselves, given that we brag about our high education, high earning power, and our high net worth.
These and similar works chronicle the life of Indian Americans in a new land, and hence are valuable source of information for someone in the future wanting to study the trajectory of Indian immigrants becoming part of the American mainstream.