By Shobhitha Ravi    e-mail:  shobhitha.ravi@verizon.net
Editor: Shobhitha, raised in the Pittsburgh area, is pursuing her master's degree in teaching at Pitt. She is passionate about India's classical and folk dances and now teaches classical dance in the Pittsburgh. Shobitha's I-Day pictures are used in this story.
Celebrating India's Independence has become an annual event here in Pittsburgh. This gala – we can also call it a mela — always takes place on the Sunday nearest to August 15th, the official India Independence Day, at Pitt's Cathedral of Learning in Oakland.  In recent years, weather permitting, the program starts with a parade around the Cathedral with singers and dancers scattered throughout the parade.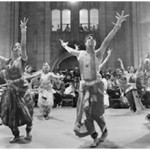 The possibility of rain this year did not prevent the parade from taking place. It was kept indoor and rerouted from the Cathedral Commons up to the Indian Nationality room with people waving hand-held Indian flags with pride. 
This event drew in, as it always does, a wide cross section of people of Indian origin with young children, high-school and college students, parents, and grandparents illing the room. Several people from the American mainstream too were there in the gala. 
The program opened with the singing of both the US and Indian national anthems followed by public speeches, flag hoisting, and dance and musical items. A wide range of performances were staged from classical dances to Bollywood items to the energetic Bhangra, and popular and India-themed songs; and the crowd appreciated each one. 
The attendees took turns crowding around the stage to get a glimpse of each program allowing for an engaging and dynamic environment. 
The organizers have finally succeeded in developing a format that emphasizes India's rich and classical folk tradition keeping the Bollywood items to a few numbers.
With the several performances and speeches, this event has become one that all Indians truly look forward to every year as a time to come together and celebrate. 
In addition to the programs, people come to enjoy the food and other activities offered as well. The lobby was lined with food stalls and tables for charity organizations, mehndi artists, ready-made garments, and saris, which together made the cultural ambience of the Independence Day celebration. 
The Cathedral became a lively mini-India. For many, it is a time to reunite with familiar faces and for those new, it is a time to meet future friends.  It is a tradition that will continue in Pittsburgh for many, many years to come.
This year, Anju Chopra and Sumedha Nagpal emceed the program, and Dean Ramayya Krishnan from CMU was the keynote speaker.  The Indian Nationality Room Committee — Saroj Bahl, Rashmi Ravindra, Ranjani Shankar, G.G. Hegde, Shernaz Cama, Nita Wadhwani and S. Ramgopal – is at the forefront of this annual event.