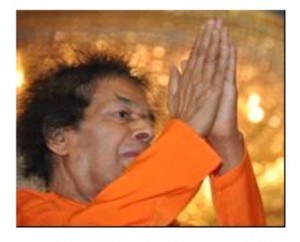 Sri Sathya Sai Baba was a unique spiritual figure of our times, whose teachings transcended linguistic, social, national, and even religious  barriers. His message was simple and universal: "Love all, serve all."  He said," I have not come on behalf of any exclusive religion. I have not come seeking publicity for a sect, creed, or cause; nor have I come to collect followers for a doctrine. I have come to establish Sanathana Dharma (the Eternal Order)."  
 People of all faith came to him. One did not have to abandon his or her religion to be his follower. He said, "Let the different faiths exist, let them flourish, and let the glory of God be sung in all the languages and in a variety of tunes."  One did not even have to be believer to acknowledge the phenomenon he has been.
What attracted me personally most was his legacy of service. Miracles were second nature to him. His mission was to serve the "poorest of the poor" all across the globe, from the tiny hamlet of Puttaparthi to the remote corners of the world. He established state-of-the-art super specialty hospitals, general hospitals, clinics — even mobile hospitals for those who could not come to the hospitals.
The hospitals provide basic and advance healthcare free of charge to all. Patients received both "Dava and Dua"as Prime Minister Vajpayee, his devotee, said inaugurating his Banglore Hospital.
He always said, "Serving hands are holier than praying lips."  Such was the quality of in his mission hospitals that they model many governments and NGOs wonder how he makes it work. Even WHO sent a special team to study the workings of his hospitals and model the team was pleasantly surprised on how effectively managed they were.
Sai Baba also started an education system "EHV" Education in Human Values, which include Sathya, Dharma, Shanti, Prema and Amhinsa, (or Truth, Fairness, Peace, Compassion, and Nonviolence) which was readily adopted in many school curricula including in schools in Muslims countries like UAE.
One of his famous sayings was: "If there is righteousness in the heart, there will be beauty in the character. If there is a beauty in the character, there will be harmony in home. When there is a harmony in home, there will be order in the nation. When there is an order in the nation, there will be peace in the world." When India's ex-President Abdul Kalaam, another devout follower, quoted this passage while addressing the European Parliament, there was an unprecedented thundering ovation after this quote.
No amount of words or space can describe his true glory. Of course, detractors are always there against any divine being in any age. Some even question his timing of leaving his body. Actually, he left his body at the precise age of 96 according to Vedic Lunar calendar not Gregorian calendar.
That he was the source of inspiration to the building of so many hospitals and educational institutions, and making them accessible to the really poor was perhaps the most tangible of all the miracles.
 I believe he is what he said he was — a divine being in human form.