By Kamana Mathur e-mail: kamana@mathurlaw.us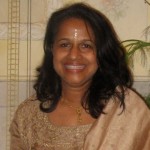 Kamana Mathur, an immigration attorney, was born in Lucknow, and was schooled in the US. She returned to India with her parents and graduated from Lady Sri Ram College, New Delhi.  Returning to the US, she earned her law degree from the George Washington University School of Law, while working full-time and raising her son. She worked in the US State Department in New Delhi as a Foreign Service Officer and Consular Officer. She is proud that her son Anuraag completed his tour of duty in Iraq as a US Marine.
I would often stand in front of the picture my father had taken many years ago, when I was a little girl in India.  It was taken in front of an interesting building, ornate but quite different from the buildings I was used to.  Little did I realize then that one day, I would be standing in front of the same building – the Cathedral of Learning in Pittsburgh.  After I moved to Pittsburgh, one of my first outings was to visit the imposing building and the nationality rooms in it.  I was impressed.
Several weeks ago, as part of my job as an attorney, I drove from Pittsburgh to Washington, D.C. at 3:30 am for a 9:30 am court hearing.   As I was lamenting that I had to do so at this early hour, I came out of the Fort Pitt tunnel. And I was mesmerized yet again as the strikingly beautiful Pittsburgh skyline simply exploded in front of my eyes.  Quiet but still stunning at this early hour.
The 5-hour drive on the nearly deserted roads was a good time for reflection.  While the dazzling views first attracted me to the city, my love affair with Pittsburgh evolved slowly, hesitatingly, with the ups and downs that are part of every true romance.   The historic districts, ethnic cuisine, and lively music scene slowly grew on me.  It was a life dramatically different from anything I had experienced.
I was undoubtedly an outsider. But then, having grown up being the "new girl" in school as my family moved nearly every year cross-country and around the world, I developed an outgoing personality that served me well.  As I got to know the "locals," the differences no longer mattered — all I could see were the similarities with practically every other community I've experienced worldwide.
Pittsburghers are hard-working and generous individuals. They are also fiercely independent and opinionated (not unlike me).  None of the pretense and self-absorption so prevalent in more "fast-paced" cities.   What surprised me, however, was the fact that despite the excellent colleges and hospitals, the stunning scenery, and the great cuisine, only three percent of Pittsburgh's population is foreign-born.  We are unable to attract and retain top international talent.
Could it be that Pittsburghers don't welcome the "foreign born?"  Could it be that there aren't enough organizations helping to integrate the international community into the fabric of society?  It seems to me there are a lot of groups seeking to do just that.
Perhaps people just don't know about Pittsburgh.  Several international journalists and world leaders admitted to not knowing much about the city prior to the G-20.  I believe them.  Prior to becoming engaged to a native Pittsburgher, I had never visited the city and had always considered it a gritty steel town – not a tourist destination.  Soon after I moved here, though, the city won the coveted "Most Livable City" award.  Also cited as one of the best places in the world to retire, home to some of the nation's finest educational institutions, and an architectural marvel, I quickly learned it was more than just a beautiful face.
As I explored the city, I visited the ethnic neighborhoods, each with a unique personality.  I watched as the shadows of the late afternoon sun shimmered and danced on the glass of PPG place, making me feel like Alice in Wonderland.  Encouraged by cheering crowds, I participated in the Pittsburgh Half-Marathon.
I biked the paths along the city's rivers.   I kayaked area lakes and hiked the local trails.  I became involved in community events and got to know Pittsburgh's residents.  And of course, I attended a ball game.
The city has soul.  I'm so happy to call it home.    ♦