By Nitya Venkataraman (Published in October 2007)
Editor's Note: The author of this write-up was born and raised in the US and prefers to remain anonymous. The "Auntie" described here is not unique to South Indians. Variations of this archetype "auntie" are found in every Indian linguage group and every subcultural/religious group within the linguistic group. The author submitted this article for publication, which first appeared as a weblog under a pen name.
With a wave of your hand, the acquisition of some spare folding chairs and procurement of fifteen plastic table cloths, you could turn any room into a formal dining hall in under two minutes. At Costco, you never over- or under-bought because you know the exact number of bags of potato chips, 2-liter bottles of Coke, containers of Dannon yoghurt, and bags of hard candies needed to feed the crowd of any size, plus any last-minute non-RSVP-ed guests.
Those who didn't prostrate before the altar of your vast knowledge of crowd control before birthdays, graduation or anniversary parties often paid the price in more ways than one. Functions without your fingerprints were never as good.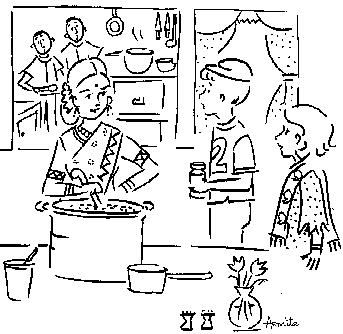 You weren't scared of anyone. You had a PhD from the
School of Hard Knocks. So when you spoke, everyone listened. I've seen you go head-to-head with everyone — from mess hall cooks to American wedding planners, janitors to Hindu priests, elec-ted officials to Indian musicians — usually with-in the same afternoon. You always won. He who dared doubt you often felt your ire and disgust for years on end.
And you never forgot the rigatoni. You were a visionary and realized early on that the rigatoni was the appropriate side dish to every ima-ginable combination of Indian cuisine.
You also never forgot the thair chadam (yog-hurt rice) … … knowing that there was no location too proud, no occasion too fancy, no table too formal for a stainless steel vessel filled to the brim with plain yoghurt, rice, and fried mustard seeds, best served in scoops with a soup ladle. Once, in my adolescence, I saw you make it with your bare hands in the kitchen of a ritzy hotel in a $700 sari wearing $4000 worth of gold jewelry while the hotel's uniformed catering staff looked on in disbelief.
When I was standing idly by and watching you, you handed me a plastic bag-encased bottle of Bedakar mango pickle from the depths of your Mary Poppins purse, and ordered me to find a spoon and add it to the buffet line. I hesitated momentarily, afraid of the way the offensive oily, orange-lidded jar of spicy, pickled mangoes would look against the grand opulence of sheer white linens and sterling silver trays. And on your way out of the kitchen with a pathram (vessel) of the rice, you snatched it out of my hands and did it yourself.
You barked at me for not immediately following your instructions — irritated that I was embarrassed by the sight of empty buttermilk containers in the kitchen of one of the city's most ritzy hotels — but I loved you all the more.
You knew everything. Everything. Without having to ask a single question. People confided in you because you had practical, applicable solutions to any problem. You always had needles, thread, yarn, scissors, super glue, Sharpies, plastic spoons, safety pins and crepe paper on hand in case of emergencies.
You had no less than thirty aunties buzz around you at the
onset of every function like worker bees to the queen. They knew their role, their function, their designated vegetable in the buffet line, and always responded to your command like troops to the general. You always delegated, but they rarely stayed focused and usually messed things up. You knew things turned out right only when you did them yourself.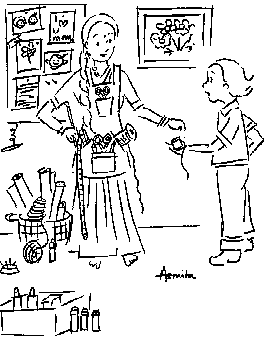 You were the stuff of legends. Once, I swear I saw you feed 100 people on five minutes notice with a cup of rice, a handful of flour and a few potatoes. Another time you stretched two cups of chakkrai pongal (rice cooked with brown sugar) to serve 400. And you made the best panchamritham of my life with a few bananas, small bunch of grapes, and a scoop of brown sugar.
Your efficiency and style and street smarts deserved their own show like "Whose Wedding Is It Anyway" or a million-dollar, high-flying, party-planning gig for P-Diddy where you would silence him and his entourage with the fire of a single glare and convince them to use plastic table clothes for cost-efficiency. But you stayed and catered to us, the undeserving.
And now, your hair's a little bit grayer, your gait a little bit
slower, and you haven't hiked up your sari on one side and leapt across a stack of plastic chairs to stop someone who wasn't following your directions in quite some years… … But every time I go home and see you organizing and directing and orchestrating the details that matter the most, I know that my childhood, my hyphenated-American experience, my memories of the perfectly organized buffet lines of yesteryears would not have been the same without you.
We want to be "Fair and Balanced." So, in the next issue will be the other part, "My not-so-favorite 'Auntie.'" by the same. — END